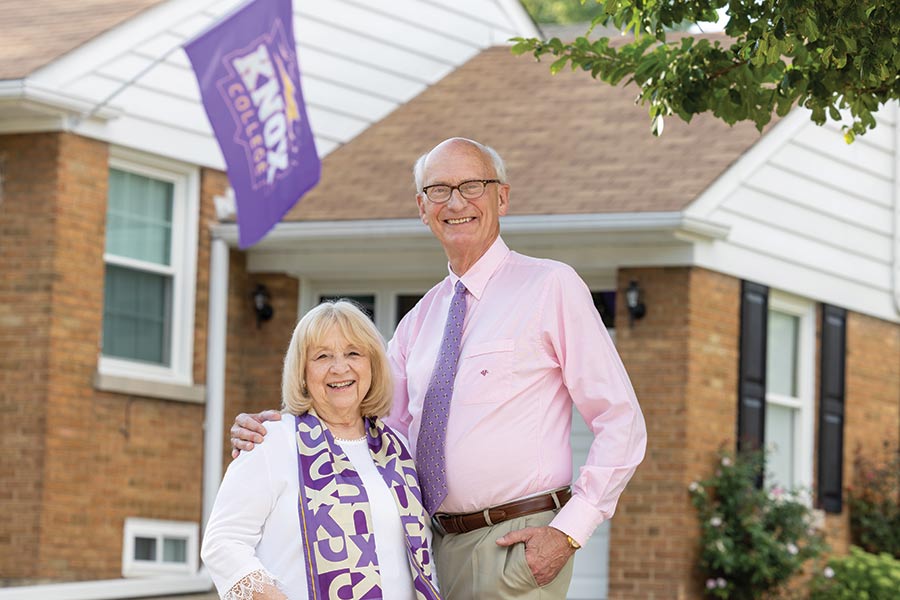 When Class of '65 alumni Gerald "Jerry" and Carol Klail Vovis were swapping Knox stories at LaGuardia Airport in New York City, a fellow Knox alumnus overheard them and happily joined the conversation. "After a while, I asked if he gave to the College," Jerry recalled. "When I heard he didn't, he may have regretted that he joined our conversation, as I made an impassioned plea to give to Knox."
This chance interaction is just one example of the decades-long commitment that Jerry and Carol made to their alma mater. At every single turn, Jerry and Carol have supported Knox, volunteering their time, seeing that the College received needed scientific equipment, and generously investing in the College's future.
Jerry and Carol met as high school students, both attending J Sterling Morton High School in Cicero, Illinois. They began dating during their senior year. Jerry entered Knox as a first year, first-generation college student. Carol felt she couldn't afford a four-year school and started her journey at a local community college. A Knox admission representative convinced Carol she could afford Knox through scholarships and federal loans, so she transferred and majored in biology.
Both Carol and Jerry have great memories of the close-knit community they found and cherished at the College. "Knox had a family feel," said Carol. "You got to know people starting at Pumphandle, where you shook the hand of the president of the College."
The August after their graduation, Jerry and Carol married. On the guest list was Jerry's college mentor, Bill Geer, a professor of biology, and his wife, Judy.
Honoring a Mentor
Jerry attributes his strong, five-decade relationship with the College to Geer, who was instrumental in Jerry's academic and career decisions. When he started at Knox, Jerry had intended to go to medical school, but things changed his junior year when Geer joined the Knox faculty. Jerry soon joined Geer's "Fly Lab," which studied Drosophila melanogaster, the common fruit fly.
"Before Thanksgiving, I called my parents to tell them I wasn't coming home for the holiday," Jerry related. "When they asked what I would be doing, I said I would be scoring the physical characteristics of fruit flies. There was silence on the other end of the line."
Jerry majored in chemistry and did an honors project in biology. Following graduation, he attended Western Reserve University in Cleveland, later Case Western Reserve, receiving a Ph.D. in molecular biology.
To honor his mentor, Jerry led the creation of the Bill W. Geer Research Fund to honor Geer at his retirement from Knox in 2000, when Geer was also named the Clara A. Abbott Professor Emeritus of Biology. The fund provides for purchases of scientific and lab equipment to support and encourage research in the sciences.
In 2001, Jerry became a Knox alumni trustee and, in 2010, a general trustee. "I accepted these honors in recognition of what Bill Geer had done for my life," Jerry said.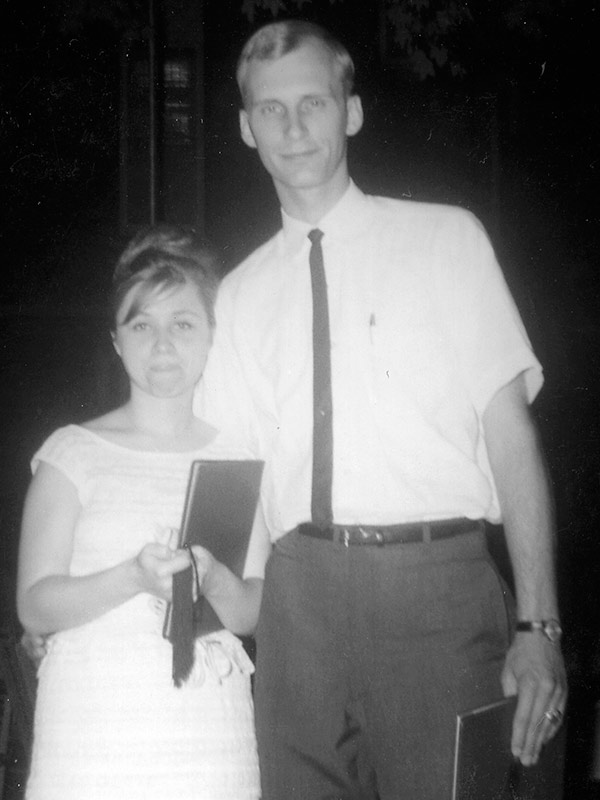 Influential European Experiences
In 1967, the couple began a three-year stint in France while Jerry worked on his Ph.D. thesis research at the Centre de Génétique Moléculaire du Centre National de la Recherche Scientifique (equivalent to the National Institutes of Health). Carol taught English at the prestigious Faculté de Science d'Orsay.
Though their science backgrounds heavily influenced their careers, the humanities courses at Knox prepared them for life as global citizens. The couple traveled around Europe, and hosted Frank Konopasek '62, a childhood friend of Jerry's, who was stationed in Hanau, Germany. "Frank brought with him a friend who had graduated from the Air Force Academy," Jerry said. "At museums, Carol, Frank, and I would be talking about a piece of art and he would ask, 'How do you know these things?' 'Oh, we went to Knox,' we'd say."
When they returned to the States, Jerry took a position at Rockefeller University in New York City, and Carol taught at a private school in Queens, later moving to the corporate world and concluding her successful career at American Express. Jerry moved from academia to the business sector in 1980, taking on executive roles at several biotechnology companies. Today, he continues to work as a consultant and investor in that industry.
Influencing Future Generations
When asked what makes Jerry and Carol most proud about their involvement at Knox, the unequivocal answer is the renovation of Alumni Hall and establishment of the Gerald and Carol Vovis Center for Research and Advanced Study.
"Former President Teresa Amott had a vision for Alumni Hall and talked to us about establishing the Vovis Center," Carol said. "We liked the ideas and were the initial and one of the major donors to start the ball rolling. Now, we get to attend student presentations and meet the amazing Knox students who are receiving these experiences. It's emotional for all of us."
Jerry insists that there's lots of room and opportunities for other passionate Knox alumni to get involved with their alma mater in meaningful ways and support Knox, allowing it to provide that same experience to others.