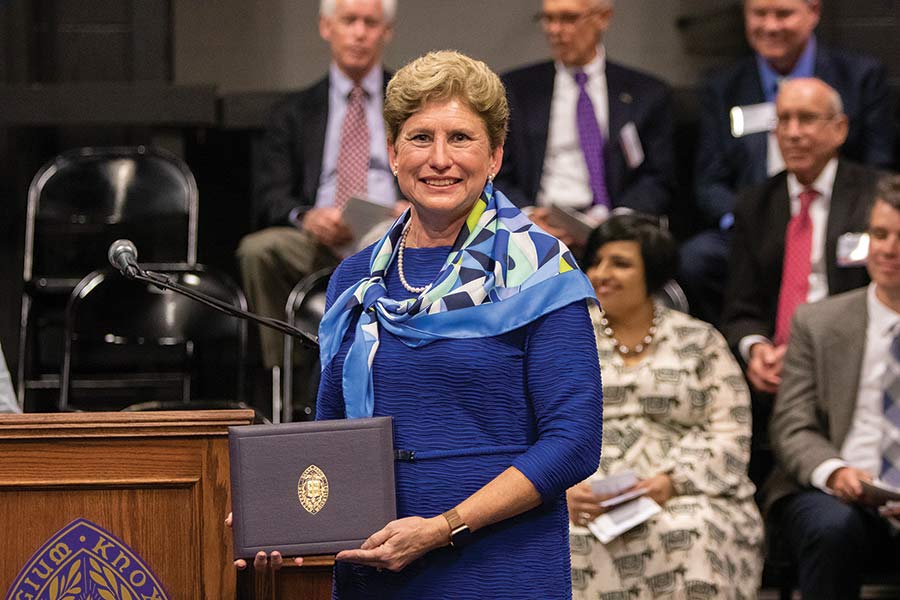 Merry started her 38-year career at Edward Jones as a student intern while pursuing her MBA, and was named a principal just five short years later in 1986. She retired in 2019 as the most tenured woman partner in the firm.
Her experience spanned investment banking, insurance and annuity products and diversity and inclusion.
She helped shape strategy and developed new products, tools and systems to meet the needs of individual investors as the firm grew from roughly 400 financial advisors when she started to more than 18,000 today.
She was an active volunteer at Knox which continued into her professional life and retirement. She has received numerous awards for her achievements, including being named one of St. Louis' 25 most influential businesswomen and a St. Louis Woman of Achievement.
Why did you choose to attend Knox?
I was a first-generation college student and I wanted to go away to college. I didn't want a large university because I wanted to have a closer relationship with friends and faculty. Knox just seemed to fit the bill.
I came to Knox thinking I was going to be a math major. I was heavy into my math degree when I discovered economics and felt that I could apply my math skills better in that area. My mentors there would have been Wilbur Pillsbury, professor emeritus of economics and business administration or Roy Andersen, Charles W. and Arvilla S. Timme Professor Emeritus of Economics, as the heads of the department during my time. They really helped me learn to apply technical skills to the economic environment as a whole and to understand money in business, which helped in my career.
Was it difficult being a female in finance at that time?
One of my early mentors was from an internship I did while I was here at Knox. There was a program through the Associated Colleges of the Midwest called Women in Management that took me to Chicago. I worked for a young woman who had come out of Wharton's MBA program. I was at FMC Corporation in Chicago and she's the one who convinced me that I should pursue an MBA, recognizing that there were career opportunities emerging for women. I like to joke that we were the Helen Reddy generation—we could do anything we wanted. "I am woman hear me roar" was a lyric from one of her songs. We didn't know that we couldn't do things and that there was a glass ceiling. So, I got my MBA and ended up at Edward Jones in the investment banking area. My primary mentor was our managing partner, who saw potential in me and gave me some guidance. One of the leaders in investment banking taught me that being the only woman in the room was a competitive advantage because people would remember me, and I never looked back.
The last two years of my career were spent in our inclusion and diversity area, where I spent time developing leadership skills for our women and diverse financial advisors. Although I technically retired as of 2020, I continue to serve the firm as a trustee of its Bridge Builder Mutual Funds.