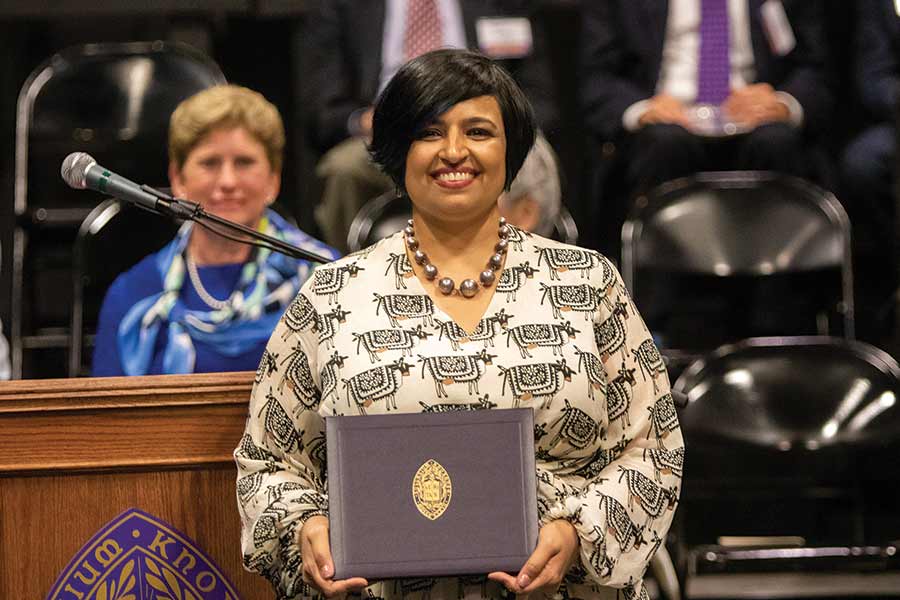 Shah is the founder & CEO of fintech Kinara Capital, which is at the forefront of driving financial inclusion of small business entrepreneurs in India.
Under her vision and leadership, Kinara Capital is globally recognized for its innovations in SME financing and has received IFC's Bank of the Year-Asia international award, is listed among Top 100 High-Growth Companies in Asia-Pacific by the Financial Times, and among India's Growth Champions by the Economic Times.
Prior to founding Kinara Capital, Shah spent two decades as a management consultant for global companies in the United States, Europe, and Asia; and for almost a decade was a mentor for emerging social entrepreneurs. Most notably, Shah was listed as one of the "Top 20 Most Powerful Women" by Forbes India in 2021; one of the "Top 40 Social Entrepreneurs" by Causeartist in 2022; and one of "7 SoloWoman Entrepreneurs Who Raised the Largest Funding Amount in India" by Yahoo! in 2019.
Why did you attend Knox?
I was a middle-class student in India who heard about liberal arts as a form of education and was just thrilled that something like this existed. Middle class kids didn't come to the United States for undergrad in the '80s, especially not girls; it's never a priority for families. But my parents were a little different and they moved mountains, including selling their home to fund my education at Knox.
Why did you start Kinara Capital?
I worked a lot with social entrepreneurs in a mentoring capacity and I remembered when my mom was running small businesses in India that access to capital was the biggest challenge. As India went from a closed economy to an open economy in the '90s, it still didn't open up access to capital for the small businesses. There are 60 million small businesses in India, and only 5 percent of them have access to commercial capital. I started Kinara Capital to provide fast and flexible loans to small businesses in the range of $2,000 to $25,000 so that they could grow their business, and they could do this sustainably. We have been operating for 10 years and we have disbursed over 75,000 loans totaling over $500 million. Along with growing to 1200+ employee strength, we have been profitable for over seven years.
There are many career highlights. It is always a learning opportunity and it's exciting to learn about new businesses. But when it comes to my own business, the most exciting is to meet that one customer who could not get capital from commercial banks, who we were able to support with a small loan. And with that loan they have been able to expand their reach as a business. Some who have funded their children's education—one was so proud that his daughter was going to become a doctor that she never dreamed could happen. Those moments are very special.