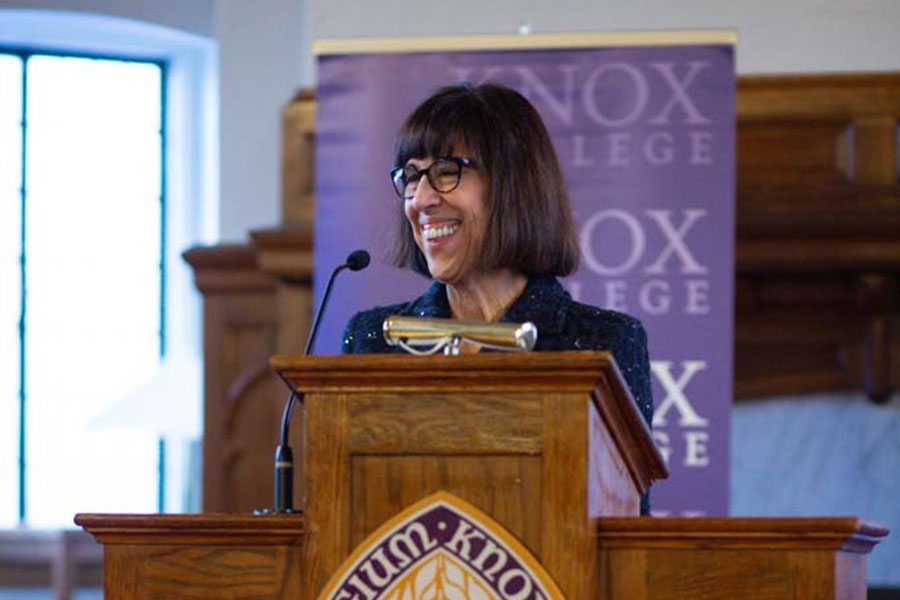 Dr. Teresa Amott, president of Knox College, announced her plans to retire in June 2021 at the February 2020 Board of Trustees meeting. "Early in our time here, my husband Ray and I came to love Galesburg and to see it as our home, but it is time for us—as we enter our seventies—to return east to our home in the Pennsylvania forests and to our family and friends there," said Amott in an announcement to the campus community.
"Teresa has been a transformational president," said Chuck Smith '84, chair of the Board of Trustees. "Perhaps what is most visible is the transformation of the physical campus—the beauty of the renovated Alumni Hall, the acclaimed Whitcomb Art Center, and the recently opened, re-imagined core of the Umbeck Science-Mathematics Center."
"But Teresa's lasting impact on the campus runs deeper," he continued. "As the first woman to lead our College in its history, Teresa has led the faculty, staff, and students in bringing the College's curriculum firmly into the current moment, and in creating an incredibly diverse, inclusive community that allows each of our students to carve an individual path."
Amott emphasizes that there is still work to be done during her remaining 15 months on campus, especially continuing work on the transformation of Umbeck Science-Mathematics Center.
"Many of the challenges we face as a global community will involve science and technology. To meet those challenges, our students need to be educated in contemporary facilities," said Amott. "Additionally, in today's very competitive admission market, it is essential that our science and technology facilities reflect the ambitions of the individuals who want to study here."
Amott holds a Ph.D. in economics from Boston College and a B.A. in economics from Smith College, and has spent her entire career in higher education. She began her career at a liberal arts college—Wellesley College—and experienced faculty life at larger institutions, including the University of Massachusetts, before returning to the liberal arts setting, accepting faculty and administrative positions at Bucknell University and Gettysburg College before serving as provost and dean of the faculty at Hobart and William Smith Colleges prior to her arrival at Knox.