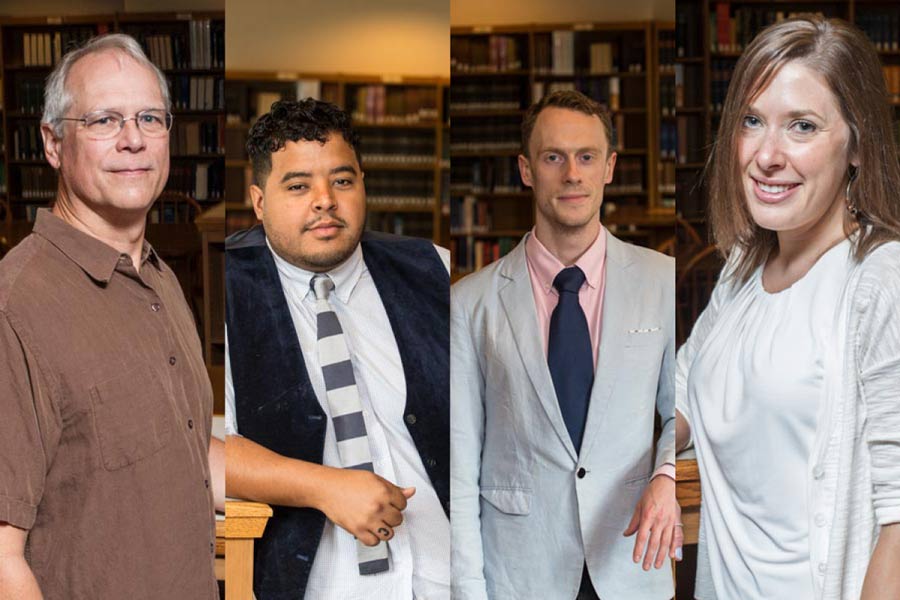 At its June 2020 board meeting, the Knox College Board of Trustees awarded tenure to four faculty members: Ben Farrer, Scott DeWitt, Sara O'Brien, and Nate Williams. All four will now hold the rank of associate professor. Knox Magazine asked each of them questions about their time at Knox, current projects, and personal aspirations. Here is a selection of responses from our conversations.
Associate Professor of Environmental Studies Ben Farrer
Ben earned his Ph.D. in comparative politics from Binghamton University and B.A. from the University of Leeds. He is a co-recipient of a major National Science Foundation grant to study hydraulic fracturing. In addition to introductory courses, he has taught specialized courses on the policy of climate change and "Environment and the Apocalypse." Farrer is the author of the book Organizing for Policy Influence: Comparing Parties, Interest Groups, and Direct Action, Routledge (2017). He served as study hall co-ordinator and tutor at Henry Hill Correctional Facility.
Why Knox? Knox is a community that values self-expression and where people want you to be your authentic self. Often, colleges have specific roles they want you to fulfill: Be the person who teaches some specific requirement or articulates a particular theoretical perspective. Knox cares less about those roles and more about allowing you to find your own voice. The community respects you enough to let you decide how to do your job best.
How has Knox supported your independent projects? Knox has helped a lot in visible and invisible ways. Jan Wolbers and Robin Venvertloh were both instrumental in helping me apply for and manage my NSF grant. Katie Adelsberger and Peter Schwartzman in my department have been extremely supportive of my research. But the invisible stuff matters too. It's inspiring to work alongside people producing world-class work, and it's not just faculty. Seeing the Ultimate Frisbee team showing up for each other, or clubs organizing fundraisers for good causes, or the choir singing to us remotely, are reminders of how our community comes together to do amazing things. That atmosphere is priceless and has definitely helped me take my work to another level.
What is your favorite thing about Galesburg? I wrote a song about my favorite Galesburg things, but top of the list, no doubt, is the Beanhive. I get emotional just thinking about it!
What is your most memorable moment at Knox? I think it would be the time I formed a band with two other faculty and three students, and we performed pop songs with the words changed to be about the environment. Our sustainability coordinator was kind/brave/naive enough to allow us to play at an event. I never feel more alive than when playing music, and to be able to share that was magical. Plus we crushed it. You can't go wrong with One Direction covers.
Associate Professor of Educational Studies Scott DeWitt
Scott earned his doctorate from the University of Wisconsin at Madison, a master's from Northern Kentucky University, and bachelor's from Hope College. He focuses his research on diversity training in the social sciences. This expertise is reflected in his teaching, particularly the course "Teaching and Learning in Diverse World." He was the co-author of Teaching About Diversity: Activities to Start the Conversation, Information Age Publishing (2020).
Describe your current research. How does it impact your teaching? My research actually comes directly out of my teaching. I published a book recently based on some of the teaching I do surrounding diversity with a colleague who teaches similar courses at another institution, and it's meant to be a resource for teachers so that they can bring diversity into the classroom even if they might not think themselves prepared for or comfortable with it. It's about starting the conversation on those issues in spaces where we haven't in the past and making that a main point of teaching where it has been largely ignored.
What is your most memorable moment at Knox? One of the first nights I was on campus there was a talent show, and I went with a colleague, and it looked like we were the only faculty—it was mostly students, a very good crowd. It was enlightening about the nature of the place. At many of the places where I have taught, there were cases of people taking the opportunity to put others down about whatever they were doing. There was none of that. From who I later learned were a bunch of [Beta Theta Pi members] in flip-flops next to me to the football players to anyone else, if someone wanted to go up and sing or do an Irish dance, it felt like, "You can be who you want to be, and that's okay."
What was something that surprised you during remote teaching? I was surprised at the College's retention rate from winter to spring terms because it seemed like an opportunity for students to say, "oh, well I'll take a term off," but the retention rate was 99 percent. Students wanted to try and stay connected. When classes began, they were just so happy to be talking and engaging with us—being able to interact with their classmates. Seeing that they were still interested in making progress and reaching goals that they were setting for themselves was very valuable.
Associate Professor of Psychology Sara O'Brien
Sara earned her doctorate from the University of Notre Dame, master's from the University of Iowa, and bachelor's from Miami University. She is interested in mood and anxiety disorders. She has served in such areas as the SPARK summer bridge program, First Year Experience Task force, and Academic Standing Committee. Since arriving at Knox in 2014, O'Brien has authored 17 peer-reviewed papers and was the lead author of studies on "the role of disgust in body image disturbance." She received the Philip Green Wright-Lombard College Prize for Excellence in Teaching for Untenured Faculty in 2019.
Describe your current research. How does it impact your teaching? My research looks at the assessment of anxiety symptoms and seeks to identify potential risk factors that are shared across presumably similar diagnoses. My students and I are currently focusing a series of studies on the emotion of disgust and "not just right experiences" (that uncomfortable feeling you get when something hasn't been done exactly right) to see how they relate to obsessive-compulsive disorders. This challenges the notion that we can neatly classify disorders based on their symptoms, and I design my classes around critical discussions about the best way to understand psychological symptoms, based on the most recent research.
If money and time were no object, what problem would you tackle? The huge need for equitable access to high-quality and culturally relevant mental health care.
How did the restraints of the pandemic encourage growth for you as a person and as a professor? Having to re-think my courses in a very short amount of time forced me to really think about what is essential in each of my classes. I was disappointed to have to let go of some of the discussions and activities that I'd carefully crafted over the years to be effective teaching elements, but I was exposed to many new platforms that equally led to unique and impactful learning. I was also home with my 1.5 year old son the whole time, which was an entirely different challenge. One minute I was wiping Cheerios off his face and the next I was logging in to teach a class. I had to learn to not take myself too seriously.
If you weren't a professor, what would you be? A baker! I love baking and decorating sweets and try to find every excuse to do so—including the last day of class each term.
Associate Professor of Educational Studies Nate Williams recently left Knox to join the faculty of Southern Illinois University Edwardsville. We wish him the best in his new role.