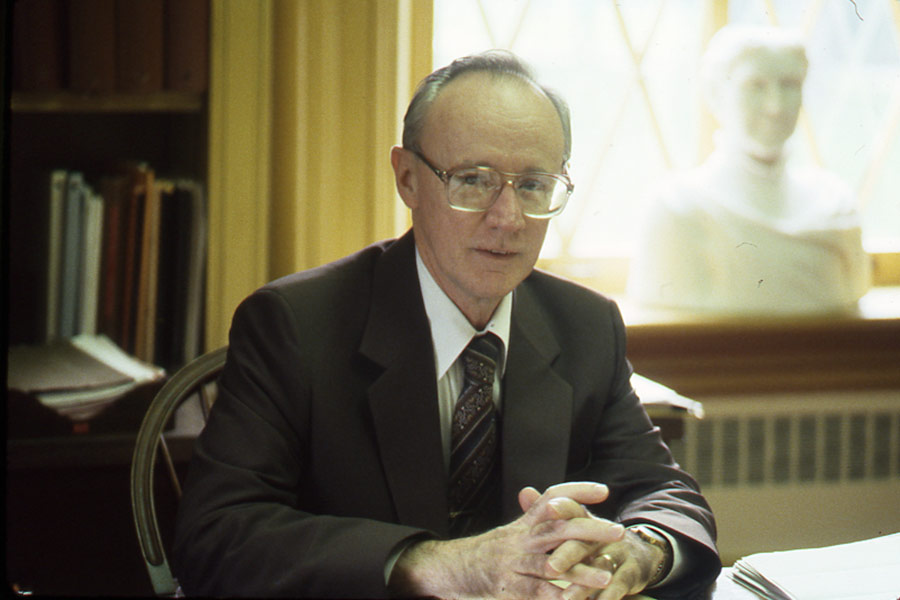 John P. McCall, the 15th president of Knox College, died May 22, 2020, in New Orleans, Louisiana. He led the school from 1982 to 1993.
McCall received a bachelor's degree from the College of Holy Cross and, after serving in the U.S. Army Signal Corps, a Ph.D. in English literature from Princeton University in 1955. Prior to his arrival at Knox, McCall held academic positions at Georgetown University and the University of Cincinnati.
A noted scholar of the English poet and author Geoffrey Chaucer, McCall regularly taught English classes at Knox throughout his presidency.
He also earned American Council of Learned Societies, Fulbright, and Guggenheim fellowships.
As Knox president, McCall initiated a comprehensive strategic planning process that examined the College's curriculum and administrative structure. During his tenure, Knox completed the $24 million Sesquicentennial Capital Development Program—a five-year fundraising effort that included restoration of Seymour Library, construction of T. Fleming Fieldhouse, and increases to academic and student scholarship endowments.
He also made the controversial 1993 decision to drop the College's longtime athletics nickname, Siwash, which was changed to the current Prairie Fire moniker. While Knox didn't use the old nickname in a pejorative way, evidence showed it had been used as an ethnic slur against Native Americans since the 1800s.
After McCall retired from the College in 1993, he and his wife, Mary-Berenice McCall, joined the Peace Corps for two years and served in Turkmenistan. McCall's volunteer work earned him recognition as "Person of the Week" on ABC Nightly News in 1993.
Upon completing their Peace Corps service, the McCalls moved to New Orleans. Mary-Berenice McCall preceded her husband in death in 2004.