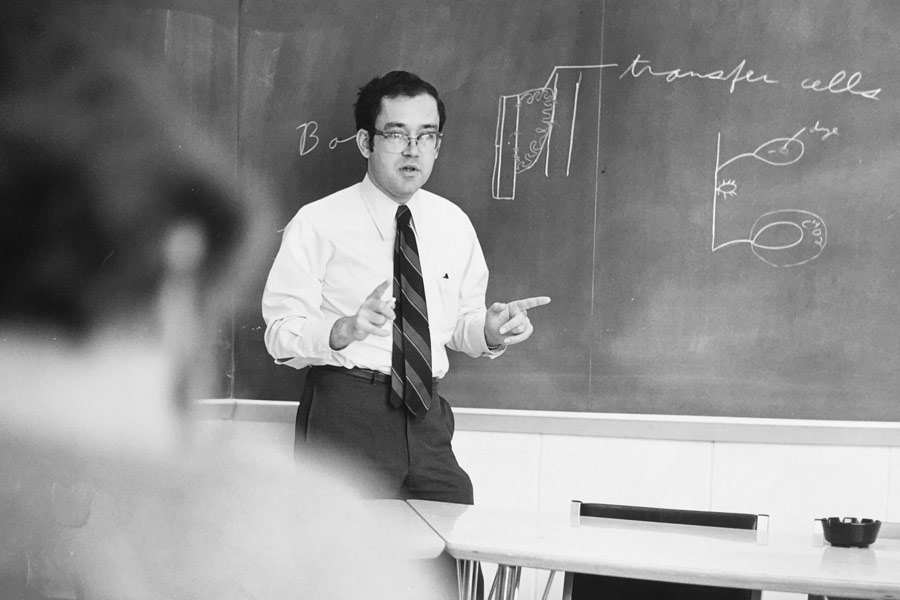 Eugene A. Perry, Knox College professor emeritus of biology, died on July 17, 2020 at his home in Galesburg.
He taught at Knox for 35 years, joining the faculty in 1967 and retiring in 2002.
A Wisconsin native, Perry received a bachelor's degree in biology from Northland College in 1960 and a Ph.D. in botany-mycology from Indiana University in 1967.
At Knox, he taught courses in general biology, microbiology, medical microbiology, field biology of algae and fungi, and advanced microbiology.
Perry's research interests included regulation of fungal spore germination, and the interactions of algae, fungi, and bacteria in various soil and freshwater habitats. For example, he researched the response of those organisms to stresses such as extreme temperatures and introduced pollutants.
He received the Philip Green Wright-Lombard College Prize for Distinguished Teaching in 1982. His service to Knox included serving as chair of the Department of Biology from 1983 to 1995 and as program advisor to the ACM Wilderness Field Station in Costa Rica.
Perry was a member of the American Institute of Biological Sciences, the American Society for Microbiology, and The Society of Sigma Xi.
He was preceded in death by his wife of 32 years, Shirley Roach. Survivors include a son, Donald Perry of Galesburg, a stepson, Bryan Roach of Galesburg, stepdaughter, Cindy Roach, a granddaughter, Anna Perry, and three step-grandchildren.