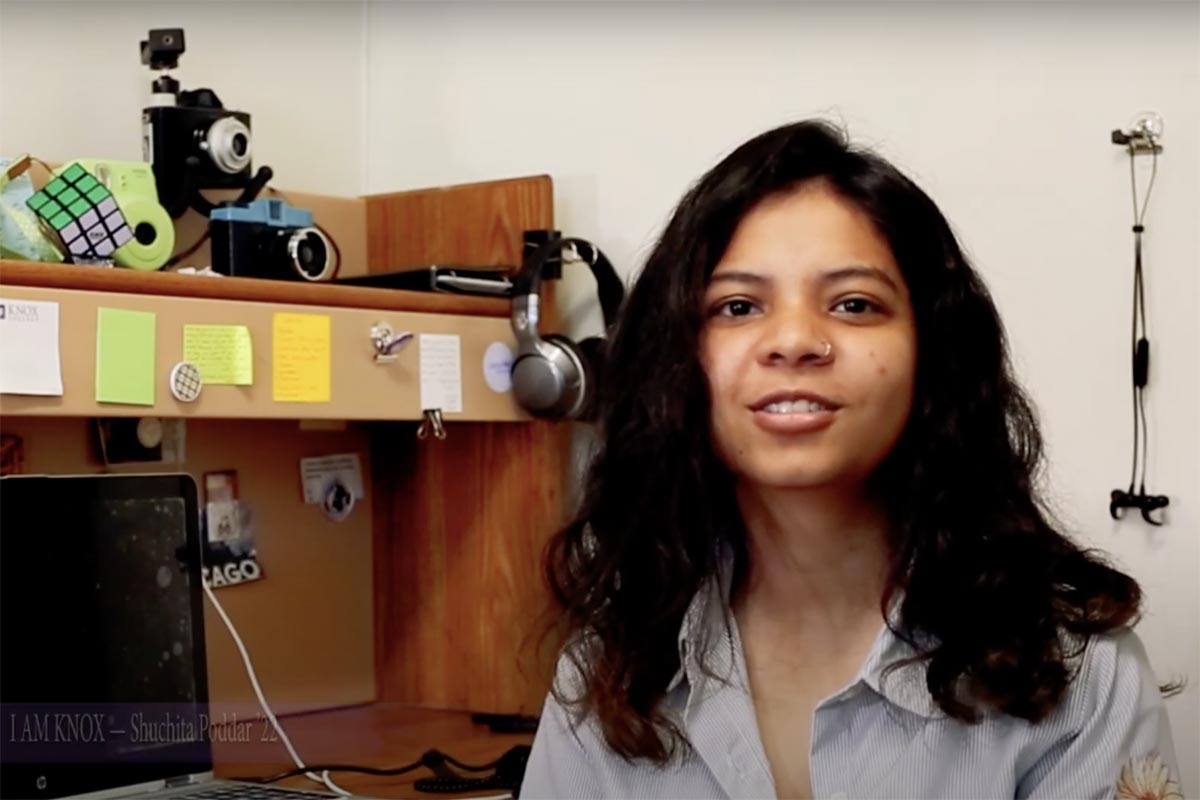 Vitals
Hometown: Gurgaon, India
Major: Creative Writing
Minor: Journalism
Campus Clubs & Organizations: International Club (co-public relations chair), aaina, Photography Club, Alumni Ambassadors, Communications Student Worker, Improv Club, Choreographer/Dancer in Terpsichore Dance Collective
Class Year: 2022
Three Facts About Shuchita
She was born in Delhi, but she grew up in a number of cities across India. She has lived in Pune, Ahmedabad, Lucknow, Delhi, and finally Gurgaon.
Her favorite foods in India are gatte ki sabzi (a curry dumpling dish from Rajasthan) and golgappe (an evening snack otherwise known as panipuri). Her favorite food in the United States, however, is Baked's potato pizza.
She wants to be an investigative journalist. She's unsure if she wants to stay in the United States or go back home, as she is more interested in reporting on stories around the world.
What does poetry mean to you?
Poetry was the first form of writing that got me into the world of writing, that made me realize I can write. Everything around me inspires me: how I am feeling, the people around me. A simple conversation could strike an idea and I could write about it. For me, poetry is all about giving the word to the audience. I do a lot of spoken-word poetry. I write to get the word out there. This is what happens in the world...and it needs to be heard.
What are some of the topics you write about?
I basically write about everything. There's a shawl that my mom really loves, and she sent it with me this time because it's one of the warmest shawls that she has. And, it's pretty cold out here. I would wear it every single day. I was really inspired by the shawl. I wrote about it, how it connects to my mother. I do write about my life in India. I wrote this spoken poetry; it was about being a brown girl, specifically in India. That's what I did for I-Fair this year. This year, the theme was 'street culture.' So, I wrote about the streets in India and what they mean to me. I got to show Galesburg what it meant to be from India. And being just one person, I got to represent all the brown girls from India. And I think that was the proudest moment of my entire life.
What have you learned from your classroom experiences at Knox?
Every term, I've taken at least one creative writing class. I can see the significant difference between my first year writing and my end of sophomore year writing. And, I cannot believe that it's mine. I think Professor Chad Simpson, in particular, helped me. I was really intimidated by writing fiction, but when I took Beginning Fiction with him, it really got me out of my comfort zone. I started experimenting more with fiction, and I fell in love with fiction so much…I'm not scared anymore...All the classes that I've taken at Knox, they've given me more to experiment and write with.