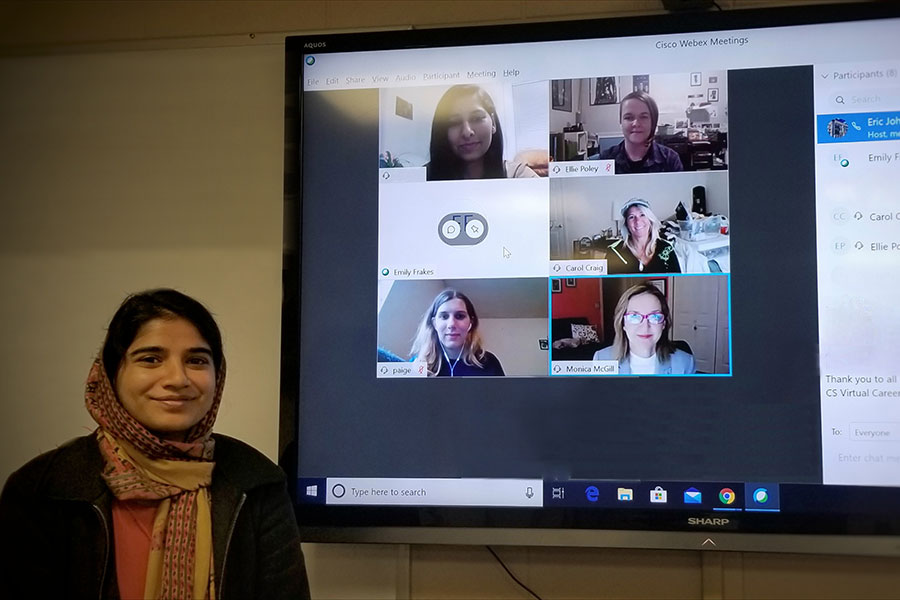 The COVID-19 pandemic created new opportunities for Knox's second annual Computer Science Career Summit. Rather than hosting a one-day event, summit organizers Monica McGill, who served as associate professor of computer science until the end of the 2019–20 academic year, and Bishakha Upadhyaya '21, computer science student ambassador and teaching assistant, developed a month-long slate of virtual programming that included sessions on creating a technology-focused resume and preparing for tech industry interviews, career tips for international students looking for U.S. opportunities, and an alumni panel discussion featuring women talking about their experiences working in a male-dominated industry.
"Both last year and this year we wanted to be fully inclusive and ensure that women were well-represented on our panels and as speakers," said McGill. "Women are still a minority in the tech world."
Microsoft software engineer Lauren Harris '14 opened the summit as the keynote speaker. The presentation provided tips on entering the field and information on working at a large corporation such as Microsoft. Harris began her undergraduate career in computer engineering at the University of Wisconsin-Madison but quickly realized that she was in the wrong major. On a whim, she attended a career fair and met a Microsoft recruiter, who invited her to Seattle to interview for an internship—an interview which she says she "totally bombed."
Harris took the feedback that Microsoft provides for interviewees and referred to it often as she transferred to Knox and changed her major to computer science. Two Microsoft internships later, she was offered a full-time job by the company.
Harris believes that the thirst for education she gained while at Knox is important to her job. "I spend most of my time trying to learn—not just the code, but the culture, how to interact with a team." Harris is working toward becoming a subject matter expert, providing a knowledge base for her co-workers.
During the women in computer science panel discussion, participants observed that they often were not as confident as male colleagues when negotiating salary or requesting roles with more responsibility.
According to Carol Craig '89, founder and CEO of Craig Technologies, and Ellie Poley '10, a senior software developer at Adobe, asking questions and reviewing company policies are important. "Some companies expect their employees to dedicate their lives to the job, but a company that stresses a work/life balance and mentorships will probably have a more well-rounded team,"said Poley.
Paige Anderson Lowe '14, software development engineer at Zillow Group, explains that finding community is imperative to resolving issues and combating loneliness. "Women are not monolithic. Look for different perspectives, and support women's voices," she said. "Be willing to speak up, to put yourself on the line when there is a problem." At Knox, the Women in Computer Science group has been one such community.
Senior Charles Broomfield attended the presentation. "While geared towards women, the presentation held a lot of lessons for men," said Broomfield. "Since the landscape is still overwhelmingly male, it is necessary that it is not just women that instigate change in the field to better the environment."
The career series was funded by the National Center for Women & Information Technology, Women in Computer Science, the Bastian Family Center for Career Success, the Office of Alumni Engagement, and the Department of Computer Science.