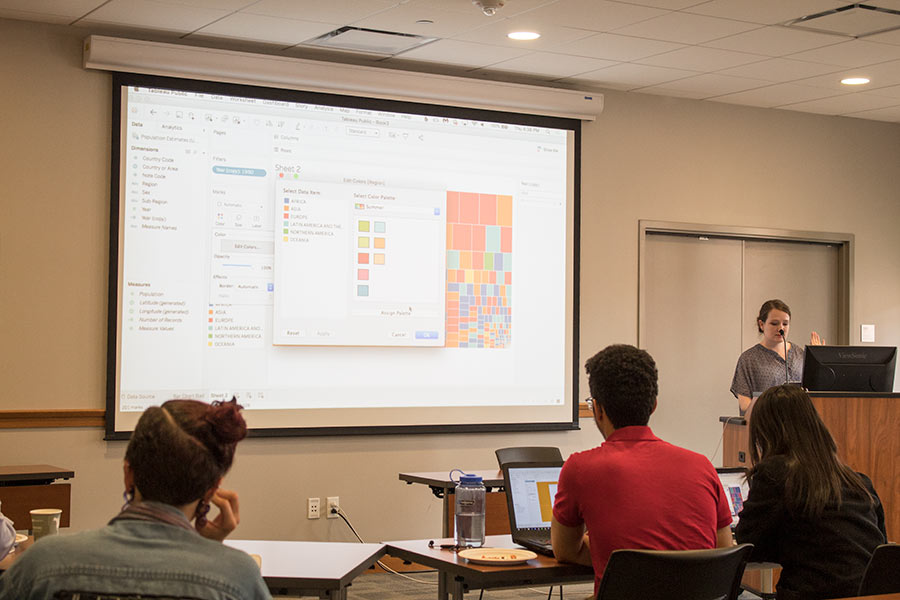 Beginning with the fall 2020 term, Knox College has begun offering a new major in data science, an interdisciplinary field that spans computer science, mathematics, and statistics and can lead to plentiful career opportunities.
Data science has applications in many other fields, including business, economics, political science, and scientific research. It can be used to address a wide range of questions, such as:
Is a literary work of unknown authorship consistent with the style of a particular author?
Is an email message a spam message?
Does a change in a baseball player's hitting approach cause a significant increase in the number of runs?
Students who enjoy "the usage and the development of solutions via machine to large problems" will be attracted to studying data science, said Kevin Hastings '76, Rothwell C. Stephens Distinguished Service Chair in Mathematics.
Some Knox students already have blazed trails in the field through their research, he added. They have gone on to begin careers and played key roles in helping Knox determine how to develop the new program.
As part of launching the data science major program, Knox will offer two new courses—Machine Learning and Data Mining & Statistical Computing—and make strategic changes in existing courses.
Data science majors at Knox will learn necessary technical skills while benefiting from the traditions of a liberal arts education, in which broad-based critical and ethical thinking skills are applied to help solve important human problems. Several courses in the program pay explicit attention to ethical issues in the use of data to draw conclusions.
"Out there in the business world, government, [and] science, data sets are used to make decisions frequently. Those decisions need to be informed by a more global point of view," said Hastings. "Things that require the application of different modes of thinking to solve real problems are really right up the alley of a liberal arts institution."
Students will have opportunities to work with faculty and with other students. "There will be huge potential for collaboration," said Jaime Spacco, associate professor and chair of computer science. For example, he added, a student could team up with Associate Professor of Political Science Andrew Civettini to examine political polling data.
Data science majors will also have opportunities to pursue independent research and to use the skills they're learning in internships, especially in the financial industry, Hastings said.