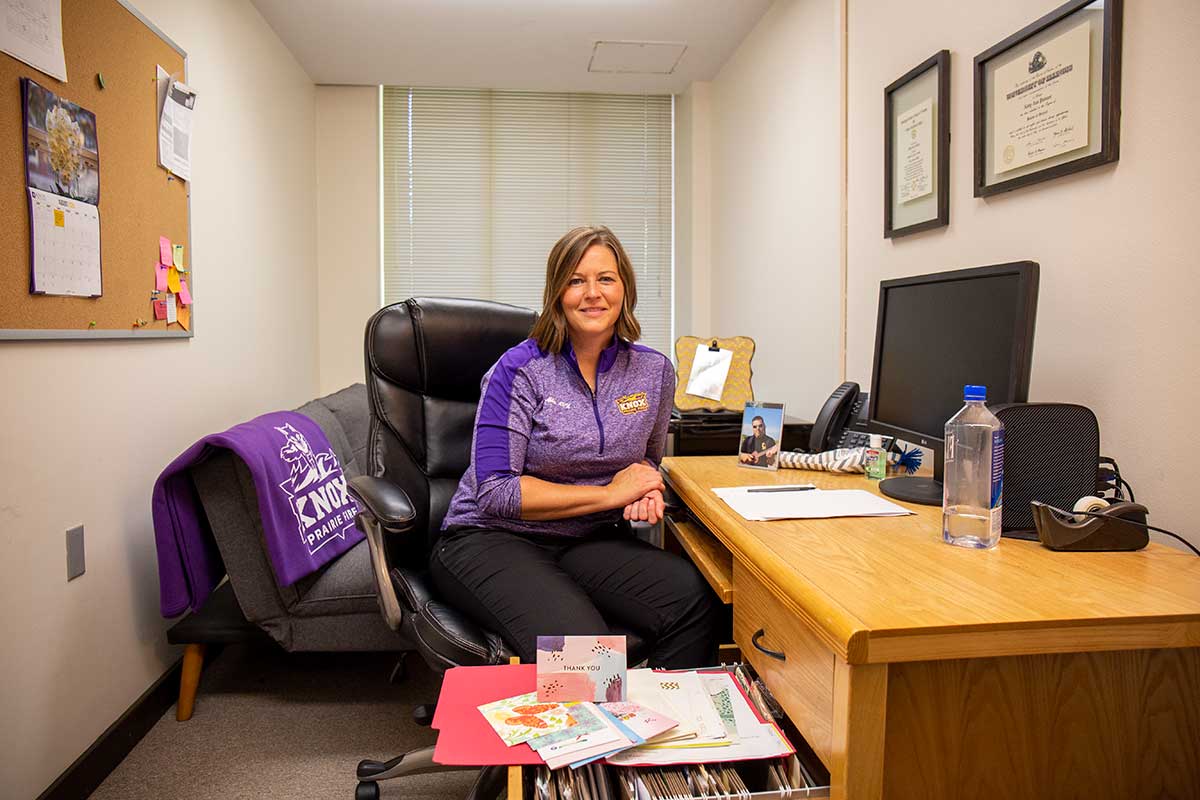 Abby Putnam has been a nurse for 20 years, a nurse practitioner for 16 years, and the director of health services at Knox for the past three years. However, despite her abundance of experience in public health, she knows that this coming year will be unlike any other. The COVID-19 pandemic continues to create unprecedented challenges for Health Services, but Putnam and the staff plan to meet those challenges head-on. "Since March, we've had to make a lot of really difficult decisions," Putnam said. "But, we're moving forward, trying to make the best decision for everyone's safety." Putnam's job may have changed significantly over the past six months, but her workspace mostly remains the same. Surrounded by pictures of her zany husband, momentos from her kids, and thank you notes from Knox students, she's got everything she needs to make the best of this uncertain time. Welcome to her office.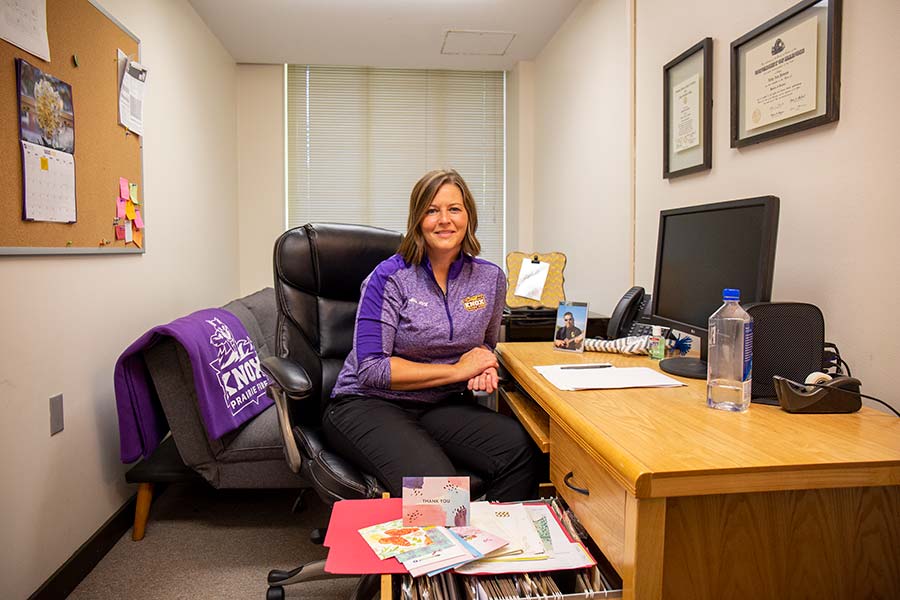 Other Items in Abby's Office
Scented Soap from Cornucopia
The first thing you notice when you enter Putnam's office is just how good it smells. The soap she keeps in her office to keep it smelling fresh was a gift from her eldest daughter. Putnam recalled a time when her daughter came into her office and ate all of the M&Ms that Putnam keeps in her drawer. "If you know me very well, you don't mess with my chocolate," she said. Even still, her daughter made amends. "She's got a really big heart," Putnam said. "She went to Cornucopia down the street and promptly bought me a huge bag full of snacks, in addition to this bar of soap to make my office smell really good."
Pictures of the Whole Family
Putnam's office is filled with pictures of her husband and kids together. "My family is obviously very important to me," she said. "I have three really great kids. My oldest, she just went away to school at St. Olaf in Minnesota. So, we're really excited for her. She's actually going into nursing right now. So, she'll be kind of following in my footsteps, and she'd like to be a pediatric nurse practitioner."
A Stress Relief Doll
Putnam keeps a striped stress-relief doll in the back corner of her office. The doll was another gift from her oldest daughter, given to Putnam during a particularly frustrating time in her life. "It's meant for slamming down on surfaces when you're upset," Putnam said. "It's a nice, gentle way to get out your frustrations."
Nursing Diplomas
Putnam keeps her nursing diplomas on her office wall as a reminder of her time as a nursing student at Culver Stockton College and as a master's student at University of Illinois at Chicago. "I have always really liked to help people," Putnam said. "When I originally went into nursing, I knew I wanted to be an advanced practice nurse." As she got deeper into nursing, Putnam says she was drawn to the problem solving that comes with being a nurse practitioner. "I love acute problems: things that we can solve quickly with medicine, or just explaining to somebody how to fix something. So I guess like most people, I like quick results."
Written and photographed by Sam Beem '20.