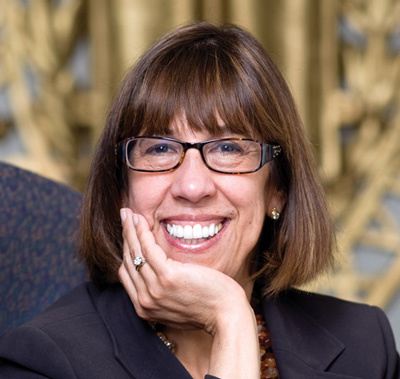 Last fall, the College convened in an environment that was almost wholly reimagined and transformed. Students returned to a campus where learning took place largely on screens, in tents, and in large classrooms only partly occupied. Important events in the life of the College, like last spring's Commencement and this year's Homecoming, were cancelled or moved into the digital space. Faculty adapted their teaching styles to the new realities, and coaches worked with individual athletes on developing both their physical and life skills, as all intercollegiate competitions were cancelled. Safeguarding the health and safety of our community required expenditures on testing, technology, personal protective equipment, cleaning and sanitation, and air quality. And we had committed financially to helping students whose families are bearing the burden of layoffs and wage cuts.
We have always been an institution that looks outward as much as it looks inward; as a College we look to the future as much as we look to the past. We draw inspiration from the past and work with young people to prepare them for the future, and we are confident that through them the world will be a better place. Yet there is no disputing that the year 2020 was an extraordinarily challenging year for the world, the nation, institutions of higher education, and Knox College. We confronted a global pandemic, a racial reckoning, an economic recession, and political polarization of a degree only rarely seen in the postwar United States.
As an institution of higher education, the role of the next generation in responding to these events profoundly shapes our work. At every Commencement since I arrived in the fall of 2011, I have choked back tears to share with our graduates my hope and faith in them, citing Carl Sandburg's remarkable poem written for the 1937 renovation of Old Main: "What young people want and dream across the next hundred years will shape history more than any other motivation to be named."
"
There are moments of discovery, of joy, of creativity, and of social solidarity even in the midst of social distancing.
Like so many Americans, we are tired, we are stressed, we are fearful of the future, we are mourning, we are angry. But I also hear from many people and have felt myself that through this process of re-envisioning our work there are moments of discovery, of joy, of creativity, and of social solidarity even in the midst of social distancing. We are also discovering that some of the changes we have made to adapt to the pandemic will endure and could actually advance Knox's position in a competitive higher ed landscape. Our small size, our deep institutional history of resilience, our culture of caring for one another—all these are advantages.
The challenges to Knox's financial sustainability are significant. Since last March, we, like other colleges and universities, have made reductions in force as with fewer students—especially international students—the College must continue to downsize.
A few moments ago, a trustee sent me a text with the word "Courage." I share the same message with you now. We need courage to meet the moment and to make change, to give up privileges, practices, advantages, old ways of doing things. Courage.