Imagine a world without cancer. With advances in prevention and early detection, the day could be coming soon where many cancers—as well as other diseases with a strong genetic component, such as hypercholesterolemia, a factor in heart disease—can be virtually eliminated before they ever develop.
This isn't the stuff of science fiction. Akwasi Asabere '05, who earned a master's degree in cellular and molecular biology and a Ph.D. in genomics at Yale University after graduating from Knox, currently leads business development efforts at Helix, a San Francisco-based company that is working to make genetic testing for a variety of health conditions more readily available to health systems and consumers.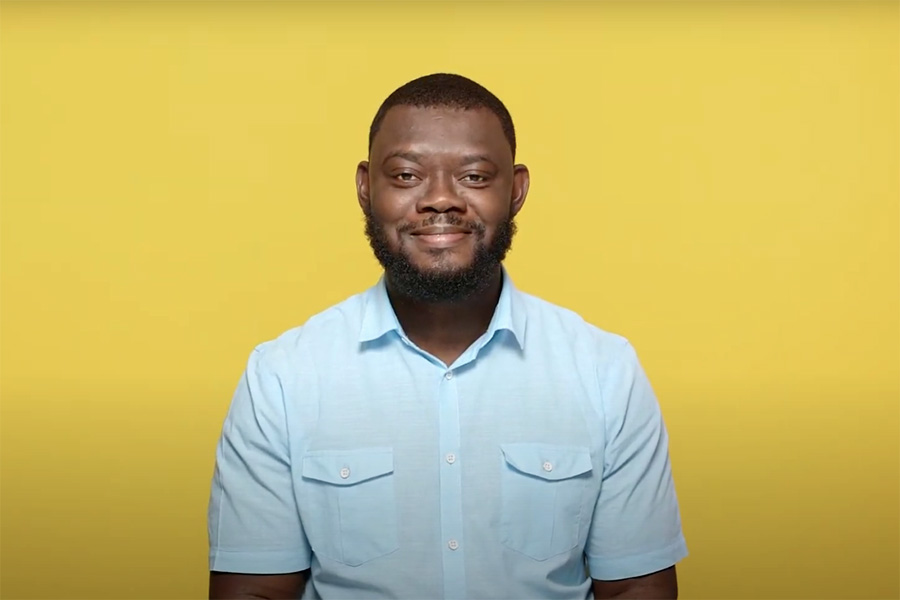 "If we can do this right, we will live in a world where you have enough information about the inherited genetic conditions you have that you can prevent them or mediate them."
Take colon cancer, says Asabere—currently the third-leading cause of cancer deaths in the United States, but also one of the most easily preventable with early screening. Right now, genetic testing can quickly identify whether an individual possesses genetic mutations that are highly associated with colorectal cancers. Once that individual and his healthcare providers are aware of that risk, they can implement a plan for enhanced screenings to detect potential tumors at the earliest stage of development.
"If we can do this right, we will live in a world where you have enough information about the inherited genetic conditions you have that you can prevent them or mediate them."
The challenges of the work are in advancing acceptance of genomics with health systems and insurers, Asabere says. "Everyone understands the utility of genomic information, but people are still resistant to the idea due to cost and no out-of-the-box simplified approach to doing this," Asabere says.
Enter Helix. The company has developed a clinical-grade assay that can quickly identify 59 separate "medically actionable" genes in a single sample to locate mutations that signal a higher risk for certain cancers, heart disease, and other conditions. Further, Helix has made that testing scalable enough to survey thousands of participants in a short time—helping health systems recruit, sign up, collect, and share results with thousands of people in just a few months. In one pilot project with a health system in Nevada, Helix surveyed 20,000 participants in six months and identified genetic disease indicators in more than 250 of them—the vast majority of whom had not yet developed symptoms that would have triggered additional monitoring.
This same technology, it turns out, also offers a vital new tool to control the spread of COVID-19. Last summer, after receiving emergency FDA approval for its molecular COVID-19 test, Helix was tapped by the National Institutes of Health to become a testing "mega-lab" for COVID-19. Since October, it has been delivering next-day results for around 50,000 individual samples every day, with the capacity to test as many as 100,000 per day. Now it's going even further—the company is using its sequencing lab to identify and monitor the spread of new mutations of the SARS-CoV-2 virus.
"Knox forced me to think about things in a non-structured way."
Asabere always knew that he wanted to pursue a career in the sciences, but back as a high school student in Ghana, he had little interest in moving to the United States for college. He was a student at a specialized high school for pre-med students when he first heard about Knox through the U.S. Embassy's education coordinator.
"I fell in love with the things that Knox was doing, the programs they have, and the diversity they had on campus," he says. As an undergraduate, he majored in biology and biochemistry, but the experience of taking courses outside his discipline again began to change the way he saw things.
"Knox was the first time for me [to study] things like philosophy and music," Asabere says. "It forced me to think about things in a non-structured way."
That broad curiosity continued after he left Knox. When he completed his graduate studies in genomics, he supplemented his science education by pursuing certification in entrepreneurship through a program at the Stanford University Graduate School of Business that teaches innovators to formulate, develop, and innovate their ideas.
"Over time I realized that while I had a deep-seeded love of science, the commercial side of it also appealed to me," Asabere says. "The liberal arts actually make it easier for you in the business world. It's not a skill set but the tools to solve the issues."
For Asabere, his Knox experience went well beyond academics. It helped him grow in countless ways, providing formative lessons and a community of people interested in his personal and professional development.
He began a long friendship with former College president Roger Taylor '63 that began his first week on campus, with Asabere teasing that someday he would take Taylor's job. He credits chemistry professor Diana Cermak with keeping him humble and biology professor Judy Thorn with helping him find his way early in his career when he had doubts. He is also still grateful to Becky Canfield in the Office of Intercultural Life for helping him acclimate, cooking him meals and checking in on him throughout his Knox career. "She was the first person who said that this kid from Africa did not have a coat that was well-suited for an Illinois winter," laughs Asabere.
More than 15 years later, he's glad he made the decision to attend Knox. "It was more than just being in a place for classes, but building a family around the experience."