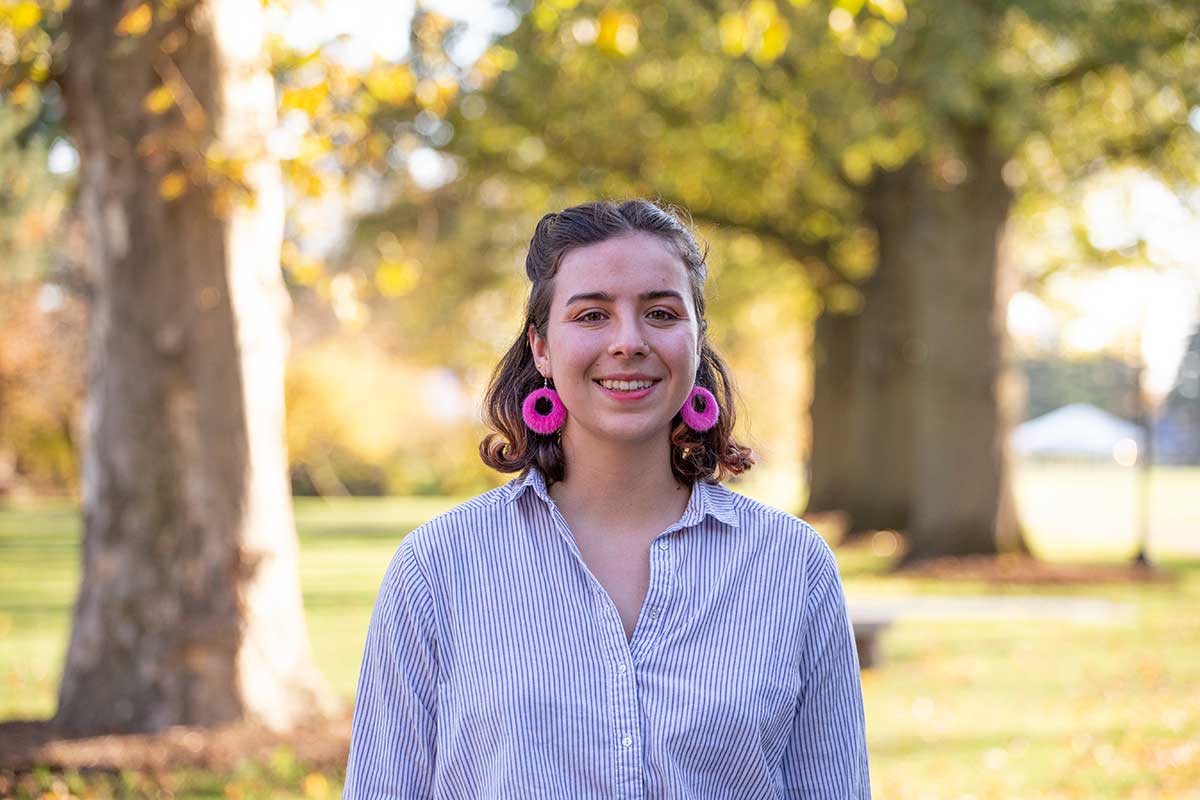 The world created by coronavirus has demanded adaptability from everyone. For Lydia Allen '20, the job she'd been seeking in public health has become more necessary than ever. Allen studied biology and designed her second major in public health, and she put her degree to use right away when she started working in August 2020 as Knox County's COVID-19 community health educator and outreach specialist.
Allen works on the new COVID-19 team at the Knox County Health Department (KCHD). "I help with contact tracing, create educational materials like social media posts, posters, and online presentations, and coordinate resources for community members affected by COVID-19," she said. "Quarantining or isolating is a significant burden on most individuals so I try to connect them with grocery support and financial resources where possible."
"Actually being a part of this community, I'm realizing now what an insane honor it is," she said. Allen explained that in the past, she preferred working alone, but she has found that Knox College's focus on community has changed her outlook.
"Collaboration is something that I learned about at Knox. The experiences of group problem-solving in biology and sociology classes, listening closely to understand other perspectives and orienting towards collective goals in the classroom has given me the skills to work with seasoned public health professionals in this completely new field and environment," she explained. "When I reflect on it, I feel in awe that I actually feel prepared and confident in my position. I think that confidence is because of Knox."
Working in public health has been a way for Allen to help keep her community safe. KCHD's social media posts, many made by Allen, offer information about COVID-19. For example, one post explains: If you were exposed to someone with COVID-19, you must quarantine for 14 days. A negative test result does not mean the quarantine period ends.
"I'm excited about the presentations I've done recently for high school students about how a virus works, current news about COVID, and how vaccines work," said Allen. "I love gathering information and thinking about how to present it in an accessible, and hopefully interesting, way! I do a lot of research and answer questions, and it feels good and important to be connecting people to information."
As a Knox student, Allen helped Assistant Professor of Environmental Studies Ben Farrer with his research on hydraulic fracturing, and that project shaped her as a public health worker.
"We were gathering real-time experiences and reactions to fracking, qualitative data, to support a more encompassing quantitative theoretical study on the political landscape around fracking," she said. "It was an incredible example of the liberal arts experience: We built the research from varying schools of thought, finding ways to combine them all. Like suddenly realizing that your molecular biology class is connected to your sociology class, it all came together."
Allen expressed her happiness with staying close to Knox and the relationships she made in school: "I miss being a student at Knox so much. I miss my professors, peers, and I actually really miss homework. But still being here in Galesburg right now, that feels really special." She encouraged students to tell their professors and classmates how appreciative they are. "You don't need to have an intimate friendship with [every person], but I think it is worth it to say, 'Hey, I appreciate you, you've made my educational experience special.'"