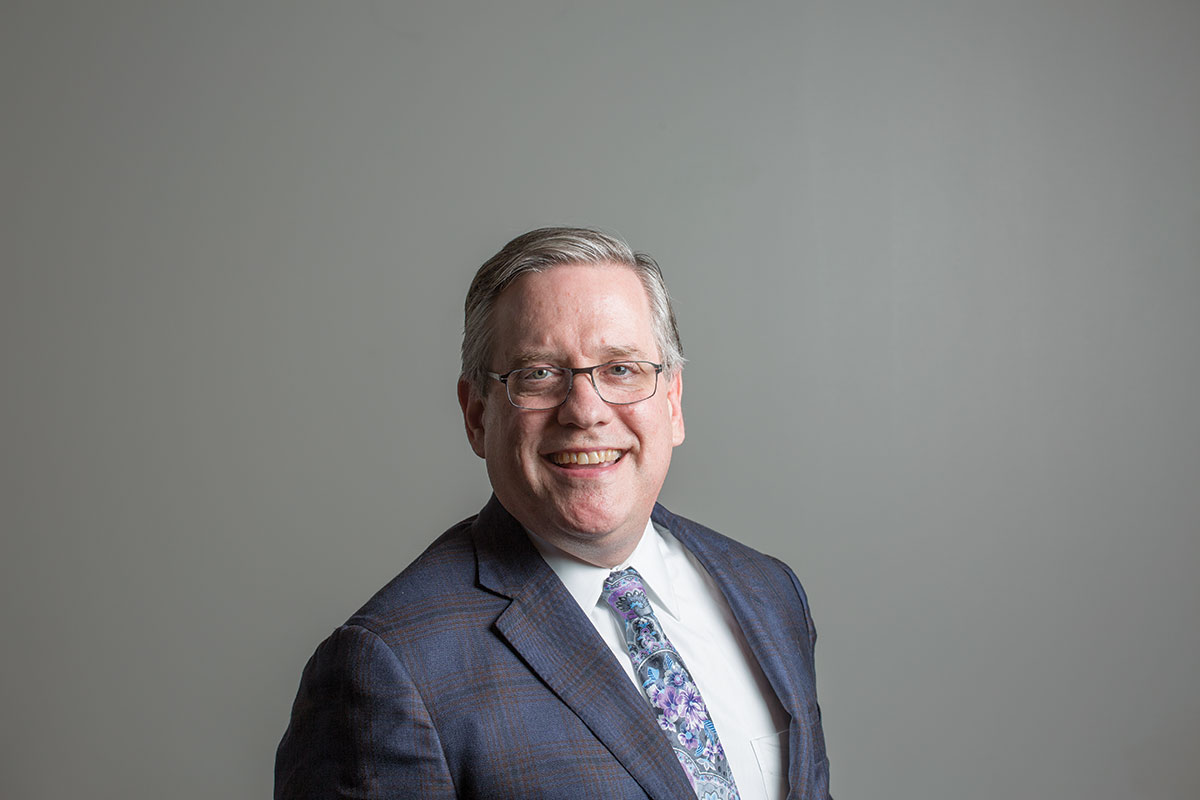 With 15 years of service as a general trustee, including terms as chair of the Advancement Committee and the Committee on Trustees, Charles "Chuck" Smith '84 brings a wealth of experience to his new role as chair of the Knox College Board of Trustees. Yet he didn't always appreciate the very organization he is charged with leading as of July 1. "When I was a student at Knox from 1980–84, I had no idea the College had a Board of Trustees, or who they were, or what they did. Even as a young alum, this was all hazy," he says.
Yet Smith's original ignorance has led to a deep appreciation for the College's governing body. "The current Board is one of which the students, faculty, staff, and alumni of our College should be proud," he says. "It brings together people from around the country—and, indeed, the world—who all have a passion for the future of our great College."
After graduating from Knox with a degree in political science, Smith received his J.D. from the University of Chicago Law School. He is currently a partner at the international law firm of Skadden, Arps, Slate, Meagher & Flom LLP. He leads the firm's litigation practice in Chicago, representing a broad array of U.S. and international companies, as well as their top executives, in complex regulatory investigations, enforcement matters, and litigation. In addition to his volunteer work for Knox, Smith is a longtime volunteer for public interest legal organizations, including the Chicago Bar Foundation (whose board he recently chaired) and the National Immigrant Justice Center. He serves on the board of the Joffrey Ballet of Chicago and volunteers regularly at the Greater Chicago Food Depository. Smith has also been honored by the National Diversity Council for his leadership on issues of diversity and inclusion in the legal profession.
"
I look forward to working to consolidate [Knox's] great strengths and manage the changes necessary to keep it on the leading edge of a liberal arts higher education.
Knox Magazine had an opportunity to talk with Smith shortly after he assumed his new role, and his enthusiasm for his alma mater and the Board, as well as an appreciation for the challenges both face, became evident. "Progress comes through real engagement on hard issues, and the Knox Board does a lot of that."
What do you look most forward to during your tenure as chair?
I look forward to working with the terrific faculty, students, staff, and alumni of our College to consolidate its great strengths and manage the changes necessary to keep it on the leading edge of a liberal arts higher education.
Where would you like to see Knox progress during your time as chair?
I would like to see real progress made on needed renovations to the Umbeck Science-Mathematics Center, even though I barely set foot in the place as a student. Alumni Hall and Whitcomb Art Center have become such shining examples of the difference a major capital project at Knox can make, and I am excited to see the next major step forward on our campus.
What do you believe is Knox's greatest challenge right now? Greatest opportunity?
Knox faces internal and external challenges, which are also opportunities. Internally, Knox needs the capital to fund the programs and facilities that will strengthen its hand in the coming decades. The challenge is raising that money, but it also presents great opportunities for all of us to give back to the College we love. Externally, higher education—and the liberal arts in particular—is under assault on a variety of fronts, generally from a position of ignorance. The opportunity is to speak clearly and forcefully on the value of a liberal arts education from a place like Knox and how it truly can change a life. I know it did mine.
Six new trustees also joined the Board in July: general trustees Robert Long '75, Susan C. Plomin '86, Tino Schuler '87, Donald Harmon '88, and Keith Lee '94; and young alumni trustee Celinda Davis '15.