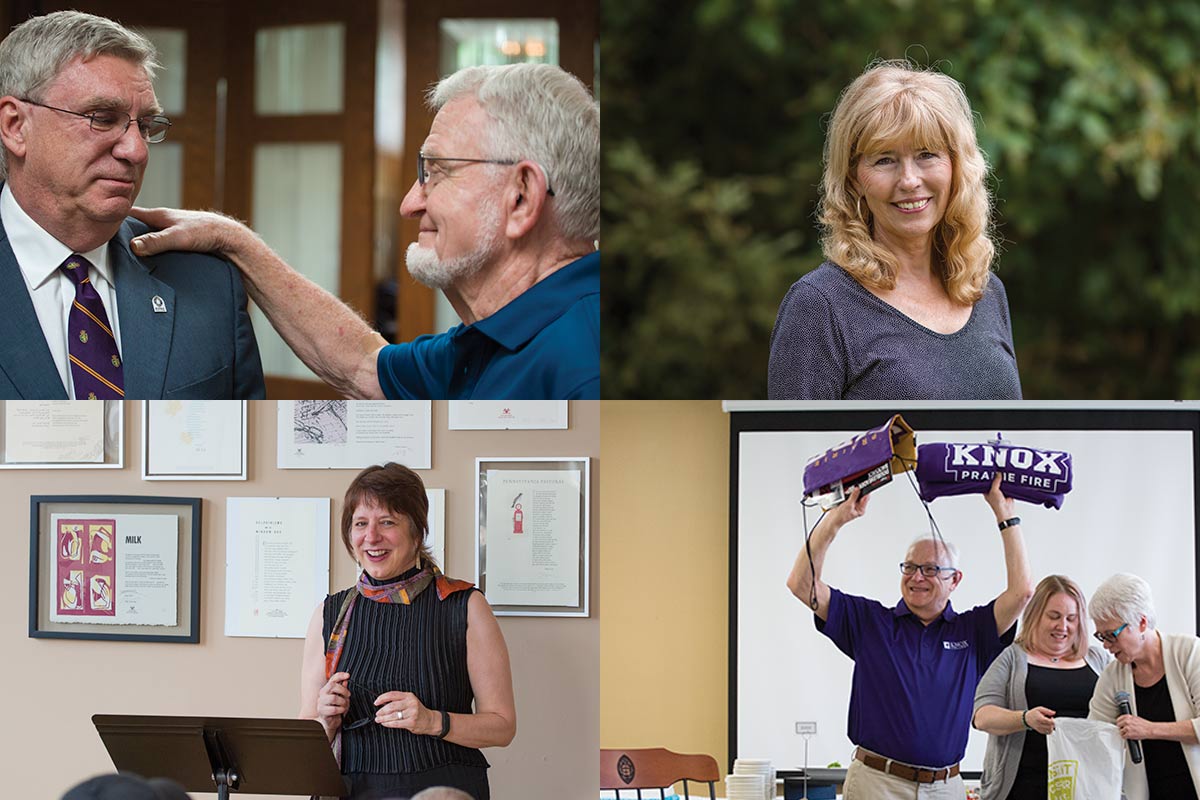 Four faculty members officially retired and were awarded the rank of professor emeritus in June: Diana Beck, George Appleton Lawrence Distinguished Service Professor of Educational Studies; Natania Rosenfeld, professor of English; Bruce Polay, professor of music and conductor and artistic director for the Knox-Galesburg Symphony; and Barry Swanson, visiting assistant professor of educational studies. Combined, they have accumulated 91 years of teaching and service at the College.
"We congratulate these esteemed colleagues on their many years of service to the College and wish them long tenures as professors emeriti," said Michael Schneider, who served as interim dean of the College during the 2017-18 academic year.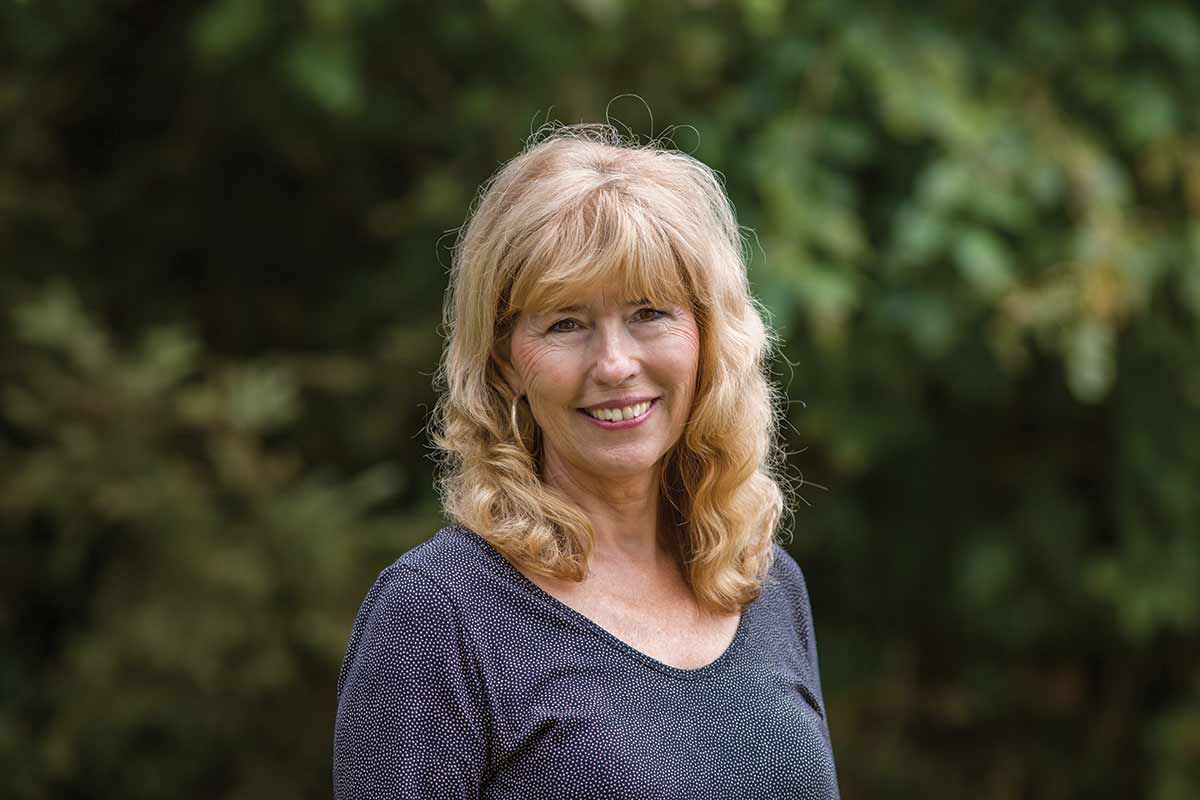 "Diana Beck is Knox."
At the end of her initial one-year appointment at Knox, Diana Beck was brought to tears because she didn't want to leave the College. Twenty-eight years later, she leaves Knox as the George Appleton Lawrence Distinguished Service Professor Emeritus of Educational Studies, having served the College and its students with unwavering dedication. "She has been 'the rock' in our department and has been depended upon for guidance, assistance, and inspiration," said her colleague Joel Estes. "To many students and faculty, current and former, Diana Beck is Knox."
Diana served as the chair of the educational studies department numerous times, helped to expand its majors from four to nearly three dozen, shepherded the department's Elementary Education Proposal through the Illinois State Board of Education in 2015, and introduced an immersion experience taking students to teach on the Navajo Nation Reservation in Arizona each summer. She has also served a wide variety of professional organizations over the course of her career, including the American Educational Research Association, Phi Delta Kappa, the International Reading Association, the Illinois Reading Council, and the National Association for Multicultural Education.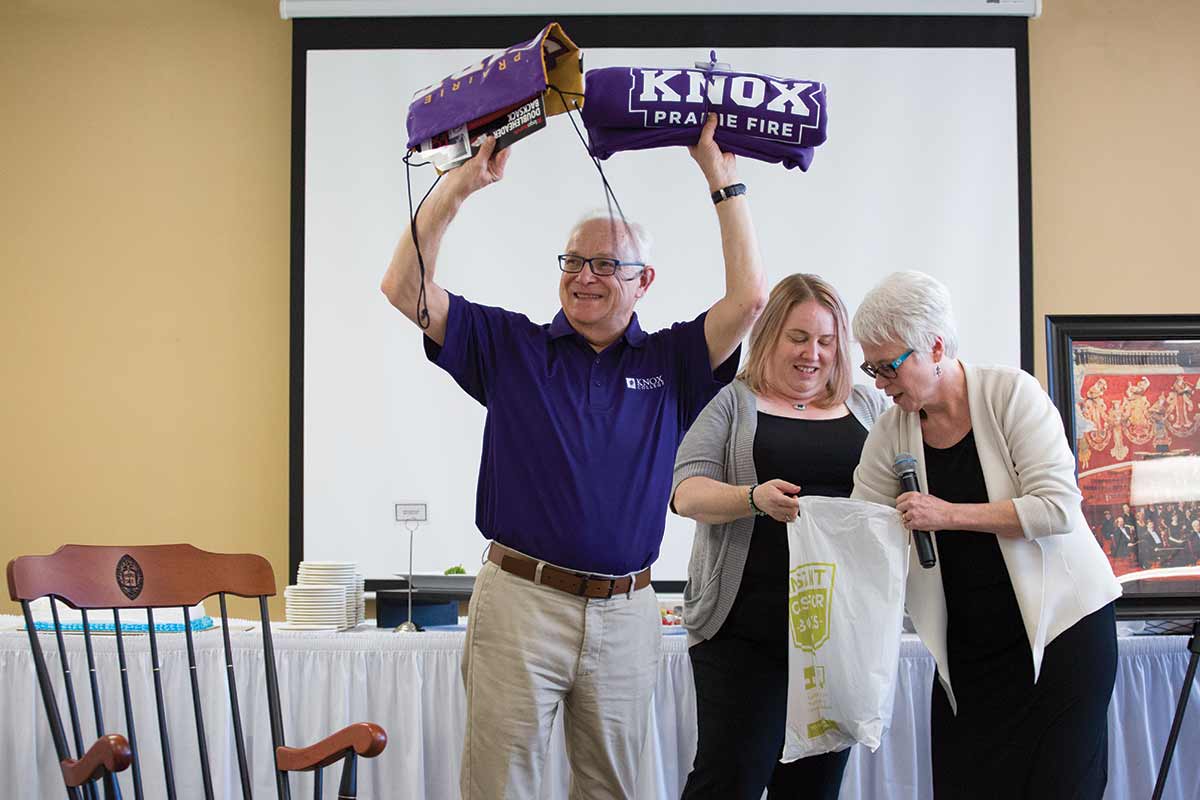 "An extraordinary colleague."
During his 35 years at Knox, Bruce Polay held a position unlike any other faculty member, serving as a full-time professor while simultaneously providing musical leadership for the Knox and Galesburg communities as artistic director of the Knox-Galesburg Symphony. He came to Knox in 1983 after receiving his doctorate from Arizona State University, already an active conductor and composer. During his career at Knox, he taught music theory and history, contemporary tonal harmony, composition, songwriting, orchestration, experimental and avant garde music, and music of the United States. Bruce's students remember his passion, energy, and enthusiasm. "You helped me understand that the world of classical music is fresh, fun, sometimes informative, daring, and a reflection of the vastness of the universe," shared one former student at Bruce's retirement party.
Bruce also composed more than 30 pieces of music for various publications across the United States and is the only conductor to be named Illinois Conductor of the Year for Professional Orchestras three times, winning the accolade in 1994, 2004, and 2010. "Bruce was an extraordinary colleague," said Professor Laura Lane in a citation read to the Knox faculty. "Generous, kind, thoughtful, and respectful, he always did what was best for the well-being of his colleagues. His love for the College and the department was 100 percent sincere."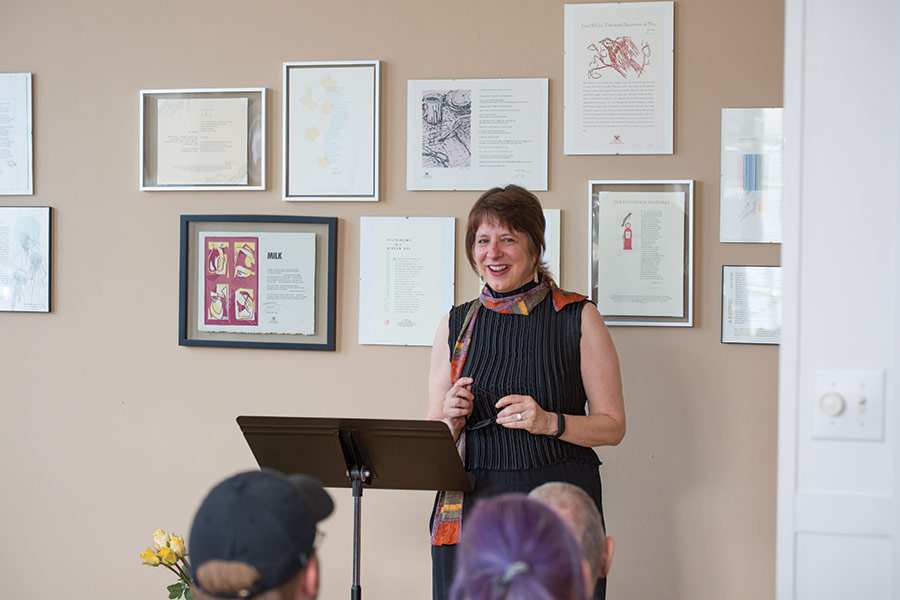 "The English professor's English professor."
"Natania is an English professor's English professor," wrote one of Natania Rosenfeld's colleagues upon her retirement. During the course of her 20-year career at Knox, Natania broadened the College's offerings in 20th century literature, especially modern and contemporary British and Irish literature, with courses that focused on literature of the city, World War I, the Holocaust, Jewish-American literature, and postcolonialism. Her classrooms were known for their expanse and complexity, and her work, including articles, reviews, poems, fiction, and essays, has been published in more than 60 journals. She is the author of three books, including the essay collection She and I, the poetry collection Wild Domestic, and the literary critique Outsiders Together: Virginia and Leonard Woolf.
"She has carried forth into her classrooms, into her writing, and into her life the belief that there exists an organic relationship between the scholarly act and the creative one," wrote Professor of English Monica Berlin '95, "and what luck to send Natania off from here to make all the rest of the poems, to write down all the living still up ahead."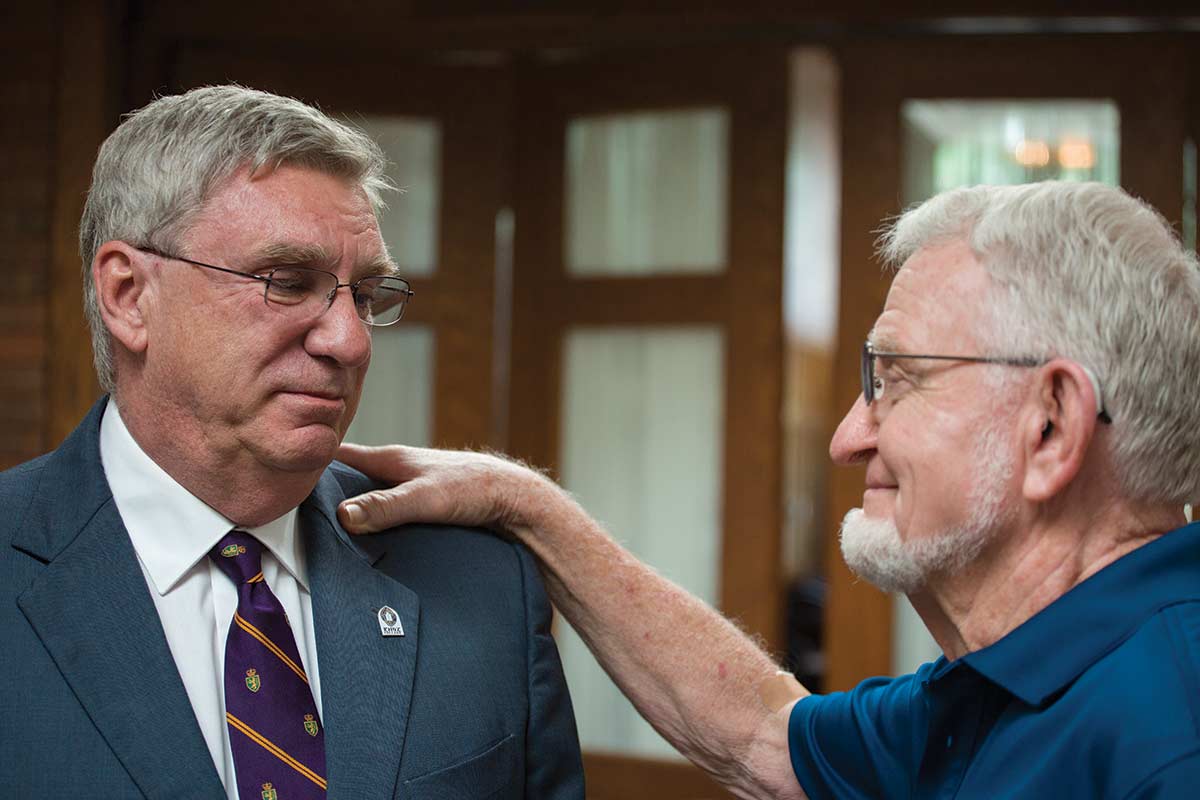 "The constant sharing of ideas."
Barry Swanson celebrated 10 years at Knox College—and 40+ years in education—with fellow faculty, students, and members of the Knox and Galesburg communities at his retirement reception in May. He joined the Knox educational studies department in 2008, teaching full-time, supervising student teachers, and advising College Honors and independent study projects. He also served as assistant men's basketball coach. Joel Estes, chair of educational studies, said that Swanson was always looking for ways to improve his own teaching.
"I have watched Barry work and rework lessons and approaches to his courses. He never wanted them to get stale," said Estes. "He aimed to make his instruction unique and relevant, constantly sharing ideas of things he had found or read for his courses."