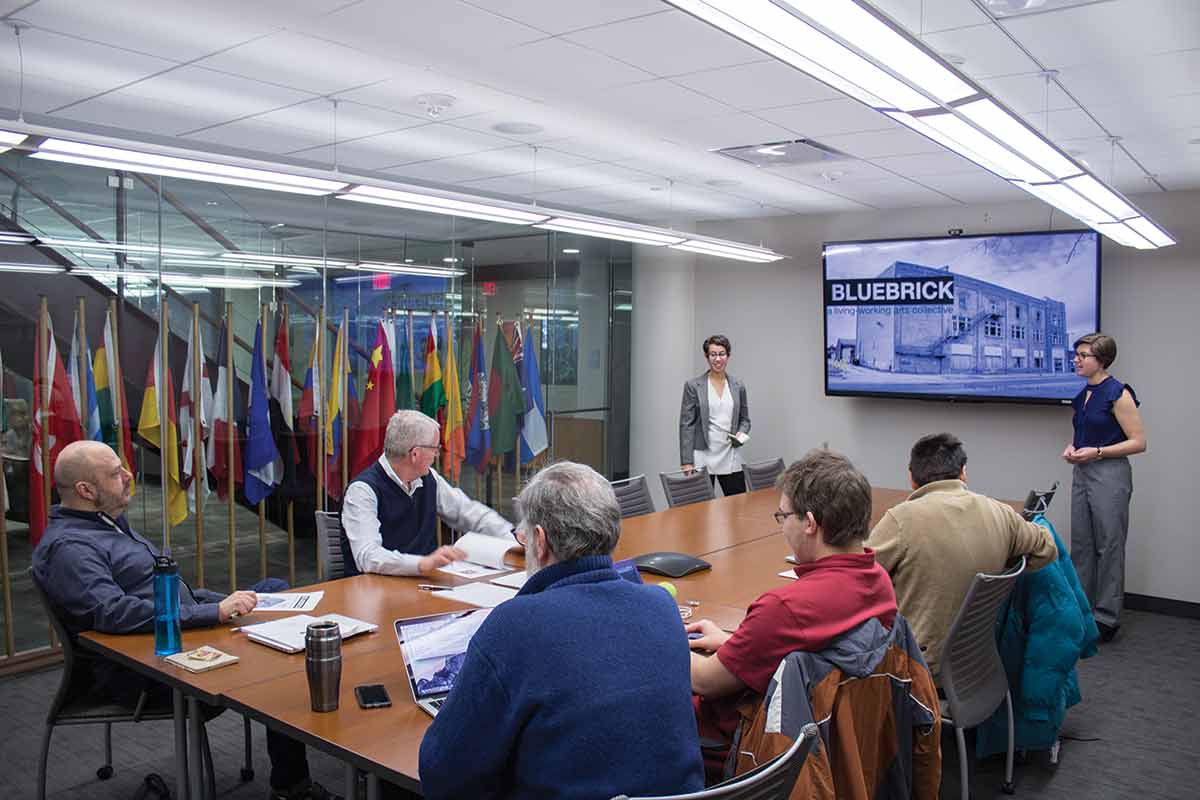 "This isn't business as usual," said Garikai Campbell, provost and Dean of the College, upon the announcement of a new business and management major at Knox. The new program, which is available to students starting this fall, offers real-world opportunities to work as entrepreneurs, lead diverse teams, and tackle some of the thorniest issues in the global economy—from sustainability to international trade relations.
"At Knox, our goal is to prepare students to identify complex problems, come up with creative solutions, and become effective and ethical leaders of diverse, global teams and organizations," added Campbell. "By asking students to combine traditional business learning with knowledge from several other areas, I believe that Knox is launching one of the most innovative business programs for undergraduates."
Business majors will be able to choose among five focus areas, including finance and accounting, mathematical finance, human relations, global business policy and development, and environmental policy and management—or work with faculty to create a personalized focus area to align with their specific career goals.
They will also spend a good deal of time learning outside the classroom. In recent years, Knox has added popular immersive programs in business, including StartUp Term, a 10-week academic experience where students create and launch their own businesses. At the end of their first year, students can also enroll in the Business Intensive Seminar, a program that brings alumni in business back to campus to coach students in communications skills, team-building, and entrepreneurship.
Students will have the opportunity to pursue summer internships with leading companies in their desired fields. Recent graduate Phelipe Graske '18 began interning with Goldman Sachs and received a full-time employment offer before he began his senior year. Other students have gone on to work at Google, Amazon, and Epic Systems. Knox's new $2,000 Power of Experience Grant, which all students receive in their junior or senior year, can help cover housing and living expenses while students are away from campus.
"Business and management has long been one of the most popular minors at Knox," says John Spittell, Wagner Distinguished Chair in Business. "Employers are looking for people who have strong communication skills, who think critically and analytically, and who can apply their knowledge to realworld situations, which is what a liberal arts education prepares students to do. The new major fits seamlessly into the Knox curriculum, but it also provides a clear pathway for students who plan to pursue careers as entrepreneurs, business leaders, and changemakers."
Two additional academic programs were recently added to the curriculum: Students can now major or minor in environmental science, which is also one of the nine program areas where students can pursue a bachelor of science degree; and minor in peace and justice studies. For more information on Knox's courses of study, visit www.knox.edu/majors.