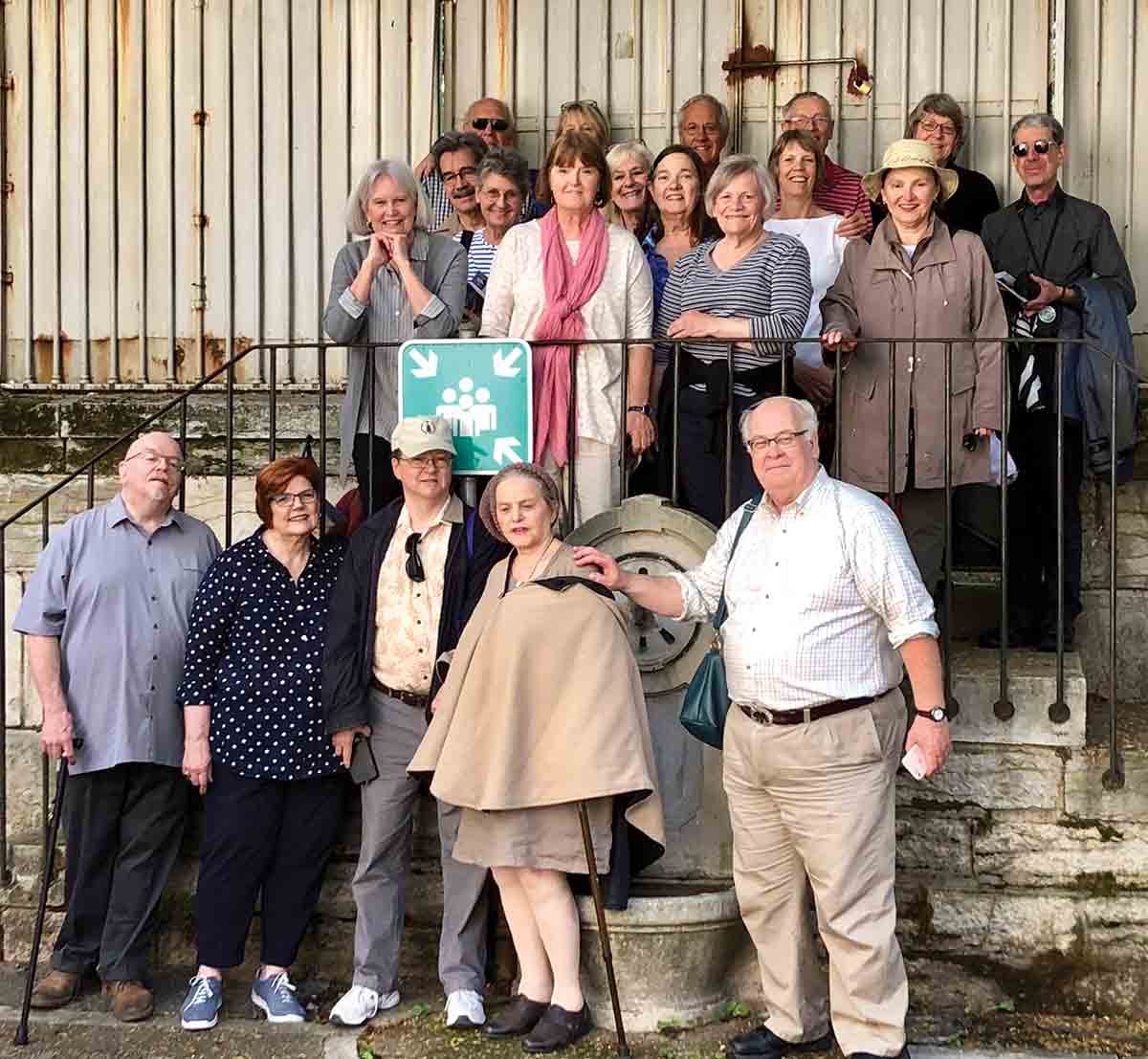 Two years ago, a small group of Knox alumni, who also happened to study in France on the Knox Besançon Program in 1969–70, came up with a crazy idea—to plan a reunion trip to their "beloved Besançon."
"We decided at our 45th Knox reunion," said Mary Myers Fasbender '71. "We planned the trip two years in advance to give the group time to prepare."
Shortly after this reunion, the group formed a small steering committee, consisting of Fasbender, Sara Gummersall Treacy '71, Jane Langer McGuire '71, Charley Stivale '71, Ted Fagerburg '71, and Bruce Wyatt '71, and they met "across eight time zones and several months to plan the four-day reunion trip to France."
Fast-forward to May 2018, and a group of more than 20 individuals, including 13 Knox alumni, two Besançon Program alumni from other colleges, and a former faculty member and advisor, along with numerous spouses, gathered in this medieval French city to reconnect and remember the past. The reunion included touring the Citadel; a Bateau Mouche river cruise; a bus trip to the sentimental city of Ornans, the Source de la Loue; and a celebratory return—complete with TV cameras and local press coverage—of the group's return to the international Centre Linguistique Appliquée (CLA), where the Knox Besançon Program has been hosted for the last 51 years. The group presented the CLA with a certificate from the College that recognized the long-standing relationship between Knox and the CLA, thanking them for "helping us and so many other students change lives through collaboration and quality instruction."
For the travelers, experiencing France was as memorable today as it was 47 years ago.
"Besançon, as well as many of us, has cleaned up somewhat since 1970!" joked Jane Langer McGuire '71. "But a year there was life-changing for all of us. It was great fun eating, drinking, and rekindling our friendships."
Reunion attendee Carol Siegel Clegg '71 added, "The Besançon reunion was simply magnifique! Our shared experience had forged a bond among this group that, amazingly, 48 years later, allowed us to share the time without missing a beat."
"Not only did Besançon result in a much more international outlook in our lives and for many in our work, but it built close friendships that have lasted for 48 years and counting," said Ted Fagerburg '71. "We hope that the benefits of international study will be available to many students; it is one of the ways of opening minds to the world."
"Many thanks to Professors Minn, Jeffries, Guinle, Chase, and others for providing Knox students this life-altering experience!" noted Bruce Wyatt.
Established in 1966, the Knox Besançon program is the oldest American program in Besançon. Students live and study at the Université de Besançon in the Jura Mountains of France's Franche-Comté region and are enrolled in the CLA, a world-renowned institute for teaching the French language.