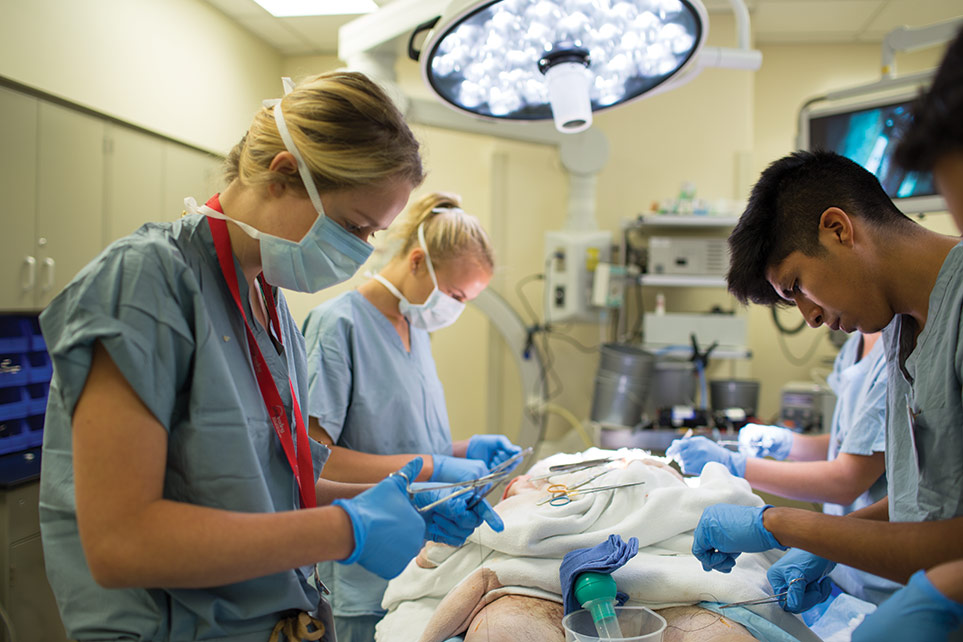 Two groups of pre-med students recently learned firsthand what it means to be a medical professional.
In a cooperative effort between Alumni Relations, the Bastian Family Career Center, the Pre-Health Program, and the Center for Teaching and Learning, 11 students spent their spring break on a medical immersion trip. They traveled to locations around the Chicago area to shadow alumni involved in a variety of different careers in medicine, from pediatrics to surgery. The experience, students said, was very rewarding.
"Shadowing Knox alumni professionals was much more personal," said Madeline Lag '17. "Knowing they had similar educational values made them feel like mentors. Also, seeing graduates of Knox in such esteemed positions made reaching career goals seem more tangible."
Lag worked with Dr. Eric Williams '85, a chiropractor, and was inspired by his approach to his work. She said he showed her the power of positivity and the transformative role it plays in one's own life as well as others'.
In addition to job shadowing opportunities, students also participated in an alumni networking program at the Union League Club of Chicago, visited an examination room in the Robert H. Lurie Medical Research Center of Northwestern University, and heard a presentation on health care financing by a Northwestern University physician.
A few months later, six students considering careers in health care spent two intense weeks in June getting an idea of what it's like to be a medical student. They used a surgical drill on a cadaver's skull, learned how to read electrocardiograms and close wounds with sutures, and encountered other aspects of medical school training during the Pre-Med Immersion Course at Jump Simulation Center in Peoria, Illinois. Jump Simulation Center is a collaboration of OSF HealthCare and the University of Illinois College of Medicine at Peoria.
"The program was more than I ever thought it would be," said Meaghan Dorsey '19, a biochemistry major who plans to attend medical school. "Everyone at Jump is so focused on innovation and including technology in health care in order to provide the best possible care."
During the immersion program, students put in long days getting hands-on experiences that also included shadowing medical professionals in the hospital and in outpatient clinics, responding to the medical difficulties of simulated patients, and experiencing virtual reality technologies.
At the end of the program, participants received a certificate of completion from Jump, OSF HealthCare, and the University of Illinois College of Medicine at Peoria.
Support from an anonymous donor enabled Knox students to participate in the immersion program.
"This program has challenged me and caused me to work hard and push myself past anything I have ever done or been expected to do as a pre-med student," Maggie Brick '18 said.