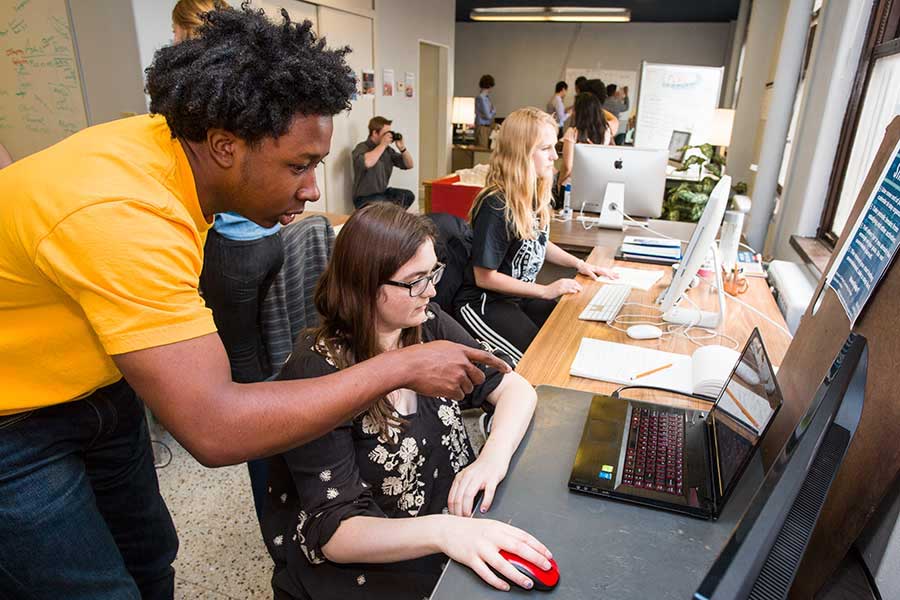 Knox students sharpened their entrepreneurial skills in a real-world environment through StartUp Term, where teams build companies offering a variety of products and services. The five teams from this year's StartUp Term established businesses in multiple fields: art, aviation, food, apparel, and software development. Some of the teams are continuing to pursue their efforts, even though StartUp Term officially ended with the conclusion of Knox's 10-week spring term.
For example, Bluebrick Collective, which is working to establish a "creativity incubator" in Galesburg, launched "The Summer of Engaged Arts," offering workshops and a collaborative space for anyone—especially young people—to create art.
In addition, Chart Air, an aviation services business, was invited to join the 2017 session of Elmspring, a real estate accelerator that supports technology startups through a robust network of real estate and venture partners. As a participant in Elmspring 2017, which started in late June, Chart Air receives seed capital, access to Elmspring's network of advisors and mentors, office space at the Chicago tech hub 1871, and other professional services and resources.
Cortney Hill '17, who was a member of the Chart Air team, said StartUp Term was "extremely valuable in the sense that we talk about business-related things in the classroom, but having real-life business experience is a completely different ballgame."
Bridget McCarthy '18, who worked on Bluebrick Collective, described StartUp Term as "an amazing opportunity for all of the teams because we have had such freedom to make mistakes and, also, to flourish."
Open to students from all academic disciplines, StartUp Term provides an opportunity to transform original business concepts into real services and products. Students accepted into StartUp Term work from office space in the Bondi Building in downtown Galesburg.
"Being off-campus really starts us thinking outside the Knox bubble," McCarthy added.
StartUp Term 2017 students mostly set their own schedules and decided how to accomplish their goals. Throughout the process, they were mentored by four Knox faculty members: John Dooley, William and Marilyn Ingersoll Chair in Computer Science; Jaime Spacco, associate professor of computer science; John Spittell, Wagner Distinguished Chair in Business; and Tim Stedman '09, visiting assistant professor of art. Part of StartUp Term also involved discussions with Knox alumni with entrepreneurial experience.