To outsiders, creative writing might sound like an impractical major. At first glance, the only obvious career path it offers is becoming a published author, and even outsiders know it's hard to get published—and even harder to earn enough money from it to keep the lights on. Otherwise, you can … teach English? Work in publishing? Outsiders see a world that needs more accountants and nurses and engineers, not poets and playwrights.
It looks different from the inside. Studying creative writing teaches students more than how to craft a beautiful poem or a memorable story. It also helps them become keener observers, awake to new ways of seeing the world and able to help others see it, too.
Since Knox's Program in Creative Writing was established in 1967, nearly 800 students have graduated with a degree in creative writing; year after year, it tops the list of Knox's most popular majors. Knox Magazine reached out to those alumni to ask about their lives now—the careers they have pursued, whether they are writing and publishing, and how their education informs the work they do now. Here's what we learned from them.
1. Definitely consider going to graduate school.
Of the 149 creative writing alumni who responded to our survey, nearly 60 percent attended graduate school. (That's not unusual for any Knox alumnus/na-historically, 65 percent of Knox graduates, regardless of major, will enroll in a graduate program within five years of graduation.)
FYI: Six alumni reported that they now teach at the college level.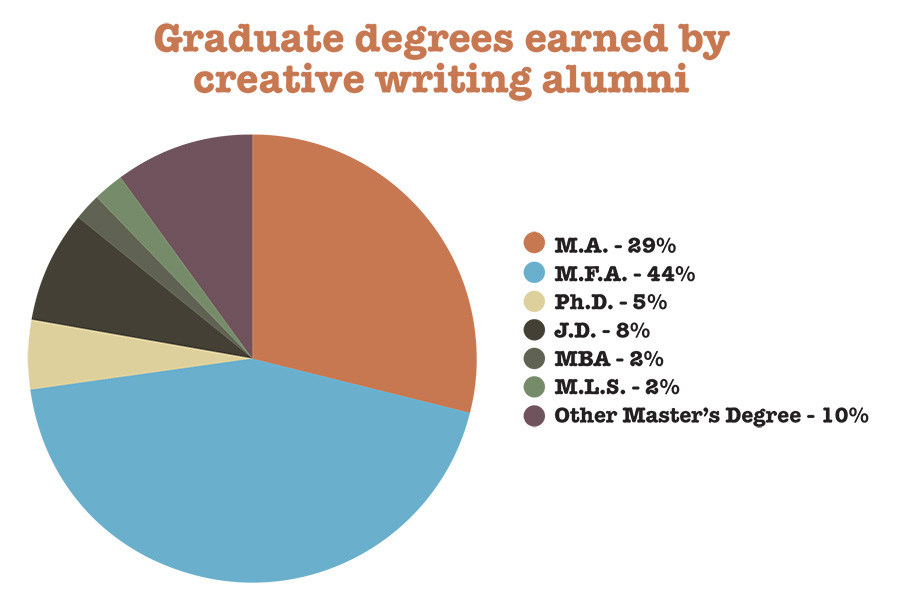 What creative writing alumni are writing, by genre
2. Probably write professionally, even if you don't always get paid for it.
About 60 percent of respondents report they have become published authors—but fewer than half of them have gotten paid for their writing. Often, the line between "paid" and "unpaid" work is a little fuzzy. How exactly do you categorize contributor's copies, the native currency of underfunded literary journals? What about online writing that builds your reputation and portfolio but doesn't actually earn you cash? What about the job in public relations or marketing that requires you to write, but not to write, well, creatively?
Are creative writing alumni getting paid to write?
3. Find your own career path, and that's okay.
It turns out there are plenty of ways to be a professional writer that don't involve bringing a laptop to the neighborhood coffee shop as you work on your novel or screenplay. Few creative writing alumni describe their job as "writer," even though many actually make a living writing and publishing books, stories, or plays. Instead, their titles run the gamut from "content creator" to "publication specialist" to "editor in chief."
Even more work in fields that seem wholly unrelated to creative writing. They're teaching, practicing law, working in a wine auction house. One is a software developer; another works in aerospace manufacturing. Yet the overwhelming majority say they draw upon their creative writing education in their work.
"I remember Robin Metz telling us in our senior portfolio class that, with writing skills, we could do anything," recalls Malissa Kent Webber '07, currently communications manager at Weyerhaeuser. "That's been completely true for me. I've worked at major corporations-Amazon, Expedia, and Starbucks—and, at each one, my writing skills are what landed me the job."
Are creative writing alumni using their education now?
4. Keep using what you learn in workshop, whether you're a writer or not.
"
Honestly, learning how to exist, and speak, and contribute in a room with brilliant, creative people has been the greatest gift that the creative writing program gave me.
Jake Marcet '07
After you leave college, it's rare that anyone asks to read one of your poems or stories and then discusses it at length with you. Yet the workshop experience continues to resonate throughout the lives of creative writing alumni.
"The workshop atmosphere—being able to accept and give feedback-has been so instrumental in my professional career," says Jake Marcet '07, now a senior SEO analyst. "Honestly, learning how to exist, and speak, and contribute in a room with brilliant, creative people has been the greatest gift that the creative writing program gave me."
Paul Smith '89 is chief quality and compliance officer at Advanced Flexible Composites, a manufacturer of temperature-resistant, non-stick materials for food, aerospace, and military manufacturing—about as far from a poetry workshop as you can imagine. Still, he says, "Reading poetry really helps teach problem-solving; workshops and slams teach one to get a thick skin and embrace criticism and change."
"I could not have anticipated my career path after college," says Erin Daugherty '13. "I am a poet turned data analyst turned entrepreneur. More than anything else, the experience of the writing workshops, with their unwavering vulnerability and dependence on collaboration, taught me the importance of sincere listening. Of everything Knox taught me, this is the lesson I return to most often."
5. Feel like you are part of something special.
"
I feel like my adult life started when I entered Robin Metz's Intro to Creative Writing class. I found my tribe.
Rachel Hall '86, now an English professor herself
"The power of Knox's program was the connections we made with professors, who were working writers," says Mariah Oxford '91, a freelance writer, editor, and designer. "We
could see their struggles and successes; we could see them as people."
"I believe that I got a creative writing education at Knox that I couldn't get anywhere else," adds Tasha Coryell '10, now working as an English instructor. "I didn't love everything about Knox, but I got more attention from my professors there than I did in my graduate program, and they taught me how to be a prolific, publishing author."
"I'm routinely jealous of my past self," says Sam Martone '11, who works at website builder Squarespace. "After Knox, even in graduate school or other writer communities, it's difficult to find a space as passionate and driven and just plain thrilled about writing as Knox's creative writing department was."