Emeritus Trustee Robert "Bob" Castendyck '44 passed away Monday, August 14, 2017. He is survived by his wife, Margaret Lord Castendyck '47, two daughters, and four grandchildren.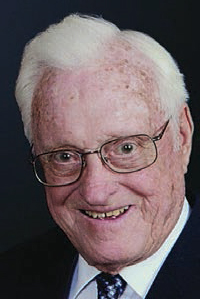 He entered Knox in 1940 with the Class of 1944, yet left to serve his country during World War II in the Army Air Corps. He ultimately graduated with a degree in economics in 1947, and was an active member of Beta Theta Pi fraternity during his time on campus. Castendyck received his law degree from Northwestern University in 1950 and practiced law in Sterling, Illinois, where he also served as the first legal counsel for Sauk Valley Community College. He retired from his legal career as a State of Illinois Circuit Judge.
Castendyck joined the Knox College Board of Trustees in 1994 and was voted to emeritus trustee in 2005. He made his first gift to Knox while serving in the military, and he and his wife became members of the Lincoln Douglas Society, which honors those who give $100,000 or more to the College, in 2008. His most significant service to the College came through his encouragement of a cousin, Col. Charles W. Timme, to include Knox in his estate plans. Col. Timme, who had no ties to the College other than through the Castendycks, left Knox $3 million for the endowment upon his death in 1993. The endowment led to the Charles W. & Arvilla S. Timme Chair in Economics, held first by emeritus faculty member Roy Andersen and now held by Professor Steve Cohn. In addition to the chair, the endowed fund also provides research funds for students, originally through the Ford Fellowship Program and, now, through the summer research program known as ASSET (Artists, Scholars, Scientists, and Entrepreneurs of Tomorrow). The main economics classroom in George Davis Hall is also named in Timme's honor.