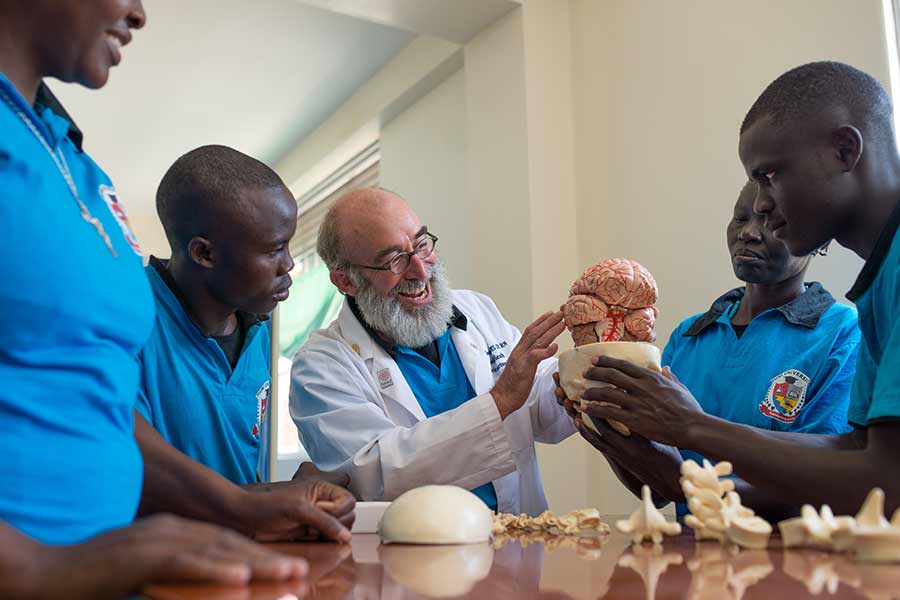 Casey Jones MS, CNS, RN, is a clinical nurse specialist in critical care and trauma, with an emphasis in palliative care. He is currently in Arua, West Nile, Uganda, where he is serving under the Global Health Service Partnership, a collaboration between Seed Global Health, the Peace Corps, and the U.S. President's Emergency Plan for AIDS Relief, teaching the first and second classes of nursing students at Muni University.
What are you doing in Uganda?
Our focus is to provide the expertise for nursing and medical schools. One of the biggest problems in Africa right now, as far as the medical side of things, is that there are very few people who open up their practices to teach. What attracted me was the opportunity to have a higher impact with my teaching and to come and study what it is people here need as far as nursing education. It was really an outstanding opportunity at Muni. We opened the school with 26 nursing students. This year, we have enrolled 40 freshman students. We're taking them to the next level, which is a bachelor's in nursing science.
Do you have any goals as to what you would like to accomplish at Muni University?
We were very fortunate that Seed Global Health gave us a good start in our skills lab, but my focus is to build the most outstanding skills lab in Uganda. I plan to raise money so that we have mannequins and simulators. I'm working on a grant right now so that we can get a cadaver lab. I'm also working to bring a professor to teach EKG readings. That skills lab piece is where I want to focus my attention.
You decided to stay a year longer than you planned. Why did you extend?
I see myself as a good educator and a strong advocate for students. I feel like I'm just now starting to understand their needs and starting to help them. I felt like another year would give me an opportunity to really stand on my own and be a better proponent for these nurses in training.
This is the second time you've served in the Peace Corps, the first being in 1990 when you went to Guatemala. How did Knox prepare you for these experiences abroad?
Because I had so much contact with international students and so many friends from different places around the world as a Knox student, I wasn't shy about jumping in and talking with people and making my way. Being in the Knox Program in Barcelona really shaped my language skills, so I had no problem with language at all when I went to Guatemala. I think those two things set me up for a lifetime of being a traveler and being very curious about countries around the world.