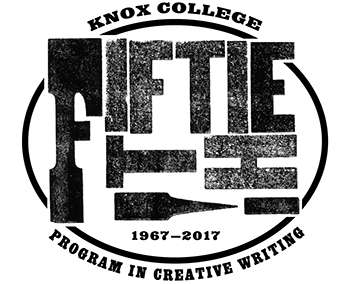 50th Anniversary of Creative Writing
Reception and Reading
Friday, May 19, 2017
6:30 p.m. to 8:30 p.m.
Playwright Tavern
202 West 49th Street
New York, NY
Featured Writers: Robin Metz, Philip Sidney Post Professor of English and Director of Creative Writing Program, and Gina Franco, Associate Professor of English
You are invited to join in a celebration of the 50th anniversary of the​ ​Knox College​ ​Program in Creative Writing! Enjoy food, drink, and the work of professors Robin Metz and Gina Franco.
Since its creation in 1967, the program has grown in both size and prestige. Today, creative writing faculty members are both widely published and widely acclaimed for their works of fiction, nonfiction, poetry, and drama.
Creative writing is consistently among the top three majors at the College, and students produce award-winning work in and out of the classroom, from holding a record number of Nick Adams Short Story Contest prizes to producing the nationally awarded Catch literary arts magazine.
Alumni have received distinguished fellowships from top graduate programs, including the University of Iowa Writers' Workshop, Brown, Cornell, and Stanford Universities; have been awarded the American Book Award, the Pulitzer Prize, numerous Emmy Awards; and work in a breadth of fields from writing, publishing, editing, journalism, public relations, and advertising to law, politics, and education.
​Cost is $25 for hors d'oeuvres reception. Cash bar available.
Please RSVP by Friday, May 12, 2017. Register online at www.knoxalumni.org/CreativeWritingNY or call Alumni Relations at 309-341-7238.