Welcome!
We know that getting to know the people of Knox—current students, professors, coaches, and members of the staff—can be very important as you make your final college decision. That's why we invite you (and your parents) to participate in the Admitted Student Experience—live and virtual events where you can interact with us, get to know us, and envision yourself as a member of Knox's human-powered community.
Are you a high school sophomore or junior or other student just beginning your college search? Visit our Knox Preview Days page.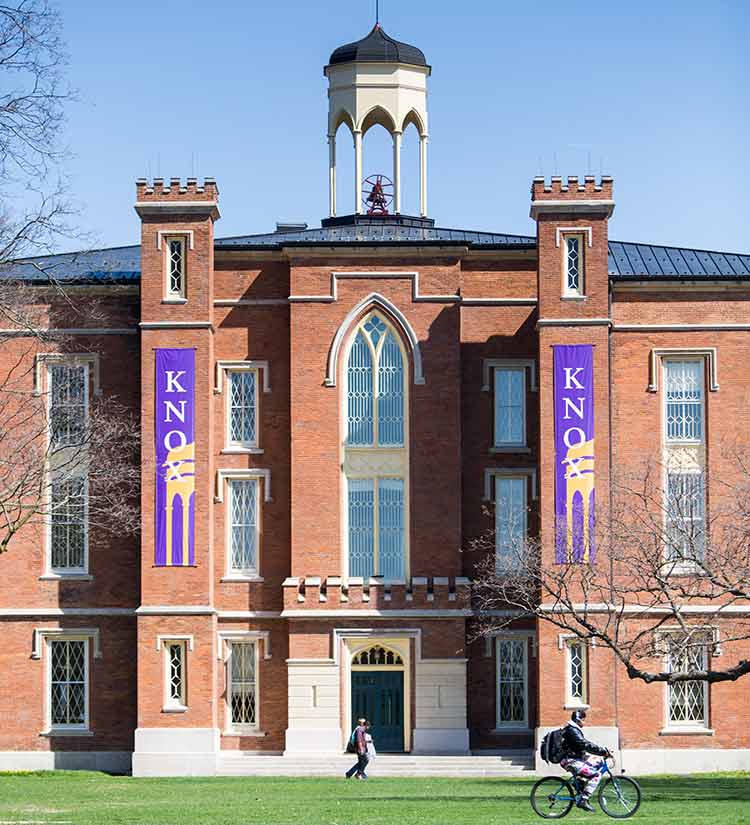 Visit Campus
We may not be able to offer our big admitted student events because of the pandemic, but we still invite you to come see us in person! Join us for one of our Admitted Student Saturdays in March and April. Due to COVID guidelines, these will be small, relatively short, in-person events. In just over two hours, you'll have a chance to tour campus, talk with students, and learn more about Knox from the people who experience it every day.
Can't make it on a Saturday? You can also schedule an individual visit Monday through Friday.
Virtual Admitted Student Days
Join us for Virtual Admitted Student Days and spend a couple hours learning about the Knox experience and get all your questions answered!
Take a real-time virtual tour of campus led by current students, and ask questions along the way.
Join break-out rooms and learn about academic programs and student life.
Meet your future classmates and current students.
Chat with your admission counselor.
Phonecasts
Pick up the phone to listen and ask questions during roundtable discussions with Knox staff, current students, and parents. No need to register in advance. We'll call you!
For Parents of Admitted Students
Roundable discussion with staff, parents, and students on Tuesday, January 12.
For Admitted Students
Talk with current students on Tuesday, March 23, from 7:00-8:00 p.m. CDT
For Parents of Admitted Students
Talk with current students and parents on Thursday, April 15, from 7:00-8:00 p.m. CDT
Meet Your Class on Facebook
We invite you to join the Knox College "Meet Your Class" Facebook group so you can start getting to know some current Knox students and talk to other admitted students who are considering a human-powered Knox education. It's a great way for you to introduce yourself, share stories, and ask questions.
A Whirlwind Introduction to the Human-Powered Knox Experience
You won't find a better guide to the human-powered Knox experience than a couple of humans who have experienced it themselves. Sarah Colangelo '10 and Joyce Hall '11 walk you through the basics—requirements, how to incorporate study abroad and independent research into your schedule, immersion terms—as well as get the most out of your time at Knox.
This is My Knox
Listen to students talk about their experiences inside and outside of the classroom.
Athletics Facilities
Take a tour of the Knox College athletic facilities with our Prairie Fire coaches.