Are You Knox?
Visit Knox -- Attend Our Winter Open House
Monday, January 21 is Martin Luther King Day -- how will you spend your day off of school?

Join us for our Winter Open House! Classes at Knox will be in session that day, and we'll hold a special convocation to celebrate the legacy of Dr. King -- and you're invited. Tour campus, talk with students and professors, observe a class, sample the food as our guest, and learn more about academic programs, internships, study abroad, and research opportunities. See the schedule of activities and register online at www.knox.edu/openhouse.

Apply for Admission by February 1
Don't miss out. Keep your options open! Apply now for admission. First-year applicants, be sure to submit all portions of your application by the regular decision deadline of February 1. Find complete instructions and apply online at www.knox.edu/apply.

Writing, Visual and Performing Arts Scholarships
If you have a special talent in writing, music, theatre, theatre design, dance, or visual art, you could receive scholarships up to $8,000 per year (even if you don't intend to major). Learn more about these scholarships and others at www.knox.edu/scholarships and schedule your audition or portfolio review now by calling 800-678-KNOX or registering online at www.knox.edu/visit.

If You Need Help Paying for College, Apply for Financial Aid by February 1
Scholarships, student loans, and payment plans are available to families of all financial backgrounds. Grants, subsidized loans, and campus jobs are also available for families who demonstrate financial need. Our financial aid staff is prepared to understand your financial circumstances and help you assemble the financial resources to make a Knox education a reality. If you think you need help to pay for college, apply for financial aid! Learn more at www.knox.edu/financialaid.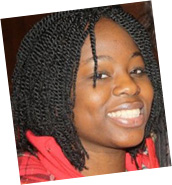 "Meeting people from the Galesburg community has been really fun and beneficial to my Knox experience."
My name is Tarere Eyimina, and
I AM KNOX
.
Meet more Knox people...