Alumna, Artist and Honorary Degree Recipient Dorothea Tanning '32
World-renowned Galesburg native and Knox College alumna dies at 101; "one of our most innovative and provocative artists"
February 01, 2012
World-renowned artist, Galesburg native and Knox College alumna Dorothea Tanning '32 died Tuesday, January 31, at her home in New York City. She was 101.
"Dorothea Tanning led a truly remarkable life, not because she lived so long but because she lived so fully," said Pamela S. Johnson, director of The Dorothea Tanning Collection & Archive, on the archive's website. "As a young woman, she pursued her dreams to become an artist, and now leaves behind a significant body of painting, sculpture, and works on paper created over the course of six decades."
Recipient of an Honorary Doctorate from Knox in 1988 (photo above left), Tanning was recognized for her achievements in painting, sculpture, writing and theatrical design.
"Dorothea Tanning serves as a model for all who seek to pursue a life of passion, creativity, and intellectual challenge," said Knox President Teresa Amott. "She explored all that life has to offer and gave back to the world her own unique and haunting perspective. While we mourn her passing, we also celebrate her bright, beautiful life."
In 2011, a festival in Galesburg, "Dorothea Tanning: From Galesburg Roots to Worldwide Fame," featured her artwork, a commemorative proclamation by the City of Galesburg and dedication of a plaque outside her childhood home, while a public symposium brought together scholars and family members, including John Nyman of Minneapolis, and Mimi Johnson of New York, Tanning's nephew and niece, to discuss Tanning's impact in both art and literature.
At the festival, Tanning was praised as "one of our most innovative and provocative painters, printmakers, sculptors and designers for theatre and ballet," by Robin Metz, director of Creative Writing and Philip Sidney Post Professor of English at Knox. "Her achievements also transcend visual art -- in her mid-eighties she established an entirely new career in writing, through her poetry, fiction and memoirs."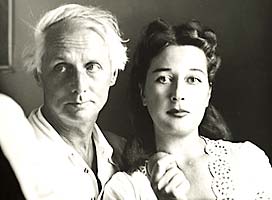 Tanning was married for many years to another famed surrealist artist, Max Ernst. Her art works have been exhibited world-wide, and just this week, her painting "Birthday" was praised as "the most riveting picture in the gallery" at an exhibit, "Wonderland: Surrealist Adventures of Women Artists," at the Los Angeles County Museum of Art.
Tanning's accomplishments in literature -- her works include two volumes of poetry -- were noted at a 2011 event at the Museum of Modern Art in New York City.