Spring 2011 Letters
Message from the President
This issue of Knox Magazine is a good example of how college presidents really don't have much authority. When I let folks know that this would be my last year at Knox, I tried to make clear that Anne and I wanted to sprint to the finish and then get out of the way: no hoopla, no farewell tour, nothing special.
As you can see from several of the pages in this issue, no one paid a bit of attention to me. Instead Knox Magazine editor, Megan Scott '96, and her co-conspirators put together a section of the magazine with a generous description of our service to the College and some tidbits about our lives. So I simply will say "Thank you."
It has been a privilege to serve as your president. Relatively few individuals ever get the opportunity to be a college president. Fewer still get to serve as president of their alma mater. Very few have the unusual privilege, as I have had, to serve as president of an institution that sticks to a historic mission of access regardless of financial means, race, or background. Few have the privilege to serve an institution where faculty put students first in their teaching and in their scholarly work and creative endeavors, as the Knox faculty does. Few serve an institution with as dedicated and hard working a staff as Knox has.
Few get to meet high school students who are enjoying the excitement of the college search process -- and then also get to watch them mature into thoughtful, caring adults. And, few get to enjoy the support and enthusiasm of fellow alumni as I have -- alumni who understand how important it is to give back to Knox.
For all of this, I thank all of you.
Roger Taylor '63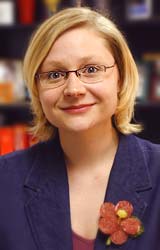 Letter from the Editor
"I add value. I add value. I add value."
I hear these three words, repeated three times by the 18th president of Knox College, nearly every time the Knox Magazine goes to press. Roger Taylor, along with the senior staff of the College, has the opportunity to review the magazine's content during the proofing process, and Roger always makes small changes or additions to the content. I wasn't always fond of this step in the proofing process, but, over the last six years, I've come to appreciate and enjoy the input Roger has provided.
Small tweaks or the addition of a sentence or two were frequent. Disagreements over grammar rules were common. Debates about whether or not to feature an alum in the magazine or whether or not to respond to a letter to the editor were less common but always memorable. These tweaks, changes, disagreements, additions, and debates improved the magazine and challenged me to defend a decision or expand my perspective. In short, they made me a better editor.
Although he thinks I hate to admit it, Roger does add value to the magazine. And when I think about it, the simple phrase "I add value" is a great way to describe Roger's tenure as president. Whether or not you agreed with his decisions or actions, Roger had a positive impact on Knox College. His dedication to the College and ability to engage with all members of the Knox community were undeniable. And we'd be hard pressed to find a person who thinks that the College is worse off now than it was a decade ago.
And though I'll miss working with Roger, I'm positive that I'll still have those discussions, debates, and disagreements with him, an alumnus and friend, over Knox Magazine stories and features every now and then -- only this time, they'll originate from the front porch of his farm in Fulton County rather than an office in Old Main.
Megan Scott '96

Letters to the Editor
WWII, Music Memor
ies
The Fall 2010 Knox Magazine was the best I have received. I particularly enjoyed the wide variety of topics, some of which I had particularly personal interest. "Alumni Contribute to WW II Exhibit" was a reminder of having a brother and two brothers-in-law in the war and three blue stars hanging in our window. They all returned safely from the war; however, during my high school civics class in Virginia, Illinois, I learned that my teacher, Margaret Taylor, had lost a brother in WWII. He had been a graduate of Knox College. The Taylor family established a memorial scholarship at Knox in his memory. The Robert Cunningham Taylor, Jr. Memorial Scholarship was established for a graduate from Virginia Community High School. My teacher suggested I apply. I was awarded the memorial scholarship and was able to begin my college career -- the first member of my family to attend college. -- Gary W. Sweatman, Class of '61 (almost) and Class of '65 (finally)
Watering Our Roots
I just finished reading through the latest edition of the Knox Magazine. I want to compliment everyone on another fine issue. I thought that the Watering our Roots story was extremely well done. It is an outstanding example of how Knox helps students excel and why alumni should make financial contributions each and every year to our alma mater. Keep up the great work. -- Gerald Vovis '65
Question for the Board
For the Knox College Board of Trustees . . . ponder this rhetorical: as to the derivation of "Prairie Fire" moniker? Anybody want to claim responsibility for "blotting out" long standing Siwash? A "faux pax" personified . . . yawl! The late Tom Croson '56 could never get the change right, referring to it as . . . drum roll . . ."the vacant lot of conflagrators." I must admit that it's got a "catchy ring" to it, though, folks!
My old "Evans House" roommate and I wondered why Siwash was replaced, but it's a good bet that "political correctness" was the underlying thrust, just as it was with the Indian mascot at the Illini football games over in Champaign/Urbana! As long as I'm on a "rhetorical run": why wasn't this put to a vote amongst the alumni to retain Siwash or not? The democratic process was ignored and that was an insult to the Knox "family" . . . and a huge financial burden regarding sweeping changes of the logo emblazoned on signage and official papers, etc. "Prairie Fire" may have evolved out of "political correctness," but it sure has a negative connotation! -- Art Bailey '56
P.S. Don't expect this to be printed, though I would appreciate my queries being addressed by the Board on the Knox Magazine editorial page.
Editor's note: The decision to eliminate Siwash as the College's nickname was made in 1993 by the president, when he learned, unknown to most Knox alumni, that Siwash was a perjorative for Native American. On October 11, 2002, when Roger Taylor was installed as Knox's 18th president, he said in his installation address "that it was time for someone to say to those alumni who still harbor some annoyance from the decision to drop Siwash as the nickname of our athletic teams . . . with respect, that it is time to move on. And I thought that another Siwasher could best do that."
Trustee Issues
I was flabbergasted to read that the Knox trustees have seen fit to augment their number with a Special Ops Army General. Whatever happened to the philosophy of "we don't believe in war here" that the late Dean Pillsbury expressed to me in 1965, when the College was a hotbed of anti-Viet Nam War sentiment? How do the Trustees square the humanistic mission of a liberal arts college with having a professional killer of executive rank help guide its affairs? It is not my intent to cast aspersions on the general, personally, but he is what he is by choice. The trustees, by their choice, have managed to embed Knox in the corporate warfare state. I wonder how that will go over with the liberal minded individuals and institutions that so far have supported Knox financially. -- Henry Randolph '65