Fall 2010 Letters
Message from the President
On April 12, 2010, Richard Morrill, the president of the New York based Teagle Foundation, addressed the spring board meeting of the Associated Colleges of the Midwest
(ACM) and shared with the ACM presidents some of his views on the future of higher education. During his remarks, he asked, "Is there anyone here from Knox?" I raised my hand, and Dr. Morrill commented that Knox pioneered student independent research. Now virtually all leading liberal arts colleges include student independent research as a part of their educational programs.
As you will see in the following pages, the history of Knox faculty involving students in scholarly research goes back to the 1920s when Professor George Hunter (who established the Hunter Trophy, which recognizes student athletes' academic achievements) supervised a group of Knox students in community-based research on Galesburg's sewage system. By the 1950s, College Honors had become part of Knox's offerings. In the 1960s, Professor Billy Geer began active collaborations with students on scientific research -- a practice that has become an accepted part of a Knox education across the curriculum. During the 2009-2010 academic year, close to 300 Knox students did independent research, and virtually all Knox faculty supervised at least one student. The following pages demonstrate the ingenuity and breadth of Knox student independent research.
Not well known is the fact that Knox faculty do not receive additional compensation for supervising independent research. They just do it and consider it part of their teaching responsibilities. This is so even though best estimates are that supervising two to four independent research projects (and Knox faculty average about two each year) takes the same effort as teaching a regular course. This is another example of Knox faculty putting students first -- a fact that all Knox alumni and friends of the College can be especially proud of in this era of me-first.
During the past decade, I have had the privilege of seeing Dean Steve Bailey's deft hand guiding the College Honors program and helping independent student research generally. I marveled at how Dean Bailey administered funds from the Ritchter Trust to support student independent research projects ranging from studying the swim patterns of shrimp for ideas on how to improve the configuration of submarines, to preparing a museum exhibit on Irish immigration to Knox County. He established Knox's new Center for Research and Advanced Study in 2010. Dean Bailey's quiet and effective stewardship of student research at Knox will be missed, but student research will continue to flourish.
Roger Taylor '63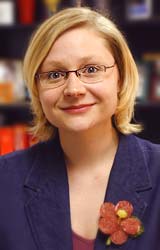 Letter from the Editor
As has happened so many times over the six years that I've been back at Knox, the stories and experiences of current students bring back personal memories and experiences. This issue of the magazine, which focuses on student research, is no different. Learning about current students' research projects and creative works took me straight back to my senior year and my own Honors project in English literature.
Of course, I had to dig out that massive tome on the novelist E. M. Forster that I wrote nearly 15 years ago, dust it off, and dig right in. Memories came flooding back. The hours upon hours spent in an office on the top floor of Seymour Library reading, researching, and writing, writing, writing, revising, and writing some more. The elation I felt when I held for the first time my completed project, bound and ready for my Honors committee; the relief when I was told by my committee that I had received Honors.
But what struck me most of all was a feeling of wonder -- did I really know that much about E. M. Forster and his novels? And how did I ever complete that project in the midst of my senior year and still manage to have time to complete other classes, hang out with friends, and work?
This feeling of wonder has yet to leave me.
As I worked with my fellow writers and editors to pull together this issue, discussing student research projects and choosing whom to feature in this issue, I was constantly amazed by the ambition, creativity, and dedication of today's Knox students. In fact, we originally planned to include only three students in this issue but were so impressed by the five students we interviewed that we had to include them all. Jessa Dahl '10 received a Fulbright. John Eisemann '10 learned how to write music for an entire orchestra. Ellie Poley '10 and Jordan Lanfair '11 were nationally recognized for their work. Ana Marquez '10 traveled to two continents to do research. How can you not be impressed with this group? And these are just the students we interviewed -- there are many more out there like them.
I hope you will be equally impressed and amazed by the students you meet on the following pages. And if this issue inspires you to think back upon your college days or to dig out your old research projects and creative pieces, we at Knox Magazine have done our job.
Megan Scott '96

Letters to the Editor
Images from Home
Imagine my surprise when I was handed my copy of the Knox Magazine while sitting at my desk at the office of The Global Fund to Fight AIDS, TB, and Malaria here in the People's Democratic Republic of Lao! It is my first piece of mail since I moved here with my husband and eldest son three months ago. Thank you so much for continuing to send this to me. It makes being so far away just a little more comfortable, seeing images from home. -- Nancy Knapp '75
Give to Knox
After reviewing the Spring 2010 edition of Knox Magazine, I noticed no references to "giving to Knox" within the magazine. I searched the entire magazine looking for ways to give (online, via phone, mail) but did not see any references, call-outs, etc. This is especially puzzling in the Spring 2010 edition, given the close of the fiscal year is approaching, and I know the College is driving toward every extra donation to include in the fiscal year. I did go online and give a donation via credit card (which was very easy to
do and the way I prefer anyway); however, my guess is that there are a host of alumni who may be willing to make a donation if given a reminder. Some alumni may not have e-mail access, and a reminder to give via phone or via mail may also help these tech-challenged souls. Having a message about donating in every edition of Knox Magazine would seem beneficial and may improve our overall fundraising goals. -- Sincerely, Jerry Zavorka '94
Editor's Note: We must admit this is the first time that an alumnus has written asking for us to include more ways to promote giving in the Knox Magazine! And Mr. Zavorka is correct -- we don't include any mention of a direct way to give in the Magazine, and that is an oversight we will remedy. To give online, visit www.knox.edu/give.