Fall 2008 Letters
Read the President's Message, Letter from the Editor, and Letters to the Editor
Message from the President
As most alumni and friends of Knox know, the Knox graduating class chooses its Commencement speaker, and the College does not pay a speaker's fee -- just travel. The names of recent high profile speakers have garnered more attention than what they?ve said.
But some remember that in 2004, the late Admiral William Crowe, chairman of the Joint Chiefs of Staff under President Reagan, told the graduates, "It's important to listen to those you disagree with." In her biography, the 2008 Commencement speaker, Madeleine Albright, relates that the 2007 Commencement speaker, Bill Clinton, once told her that no one has 100 percent of the truth and that we should be skeptical of those who think they do.
Yet if we turn on cable news, we see talking heads of all sorts -- each of whom obviously believes he or she has 100 percent of the truth -- hollering at and not listening to the other at all. They show no mutual respect for what the other is saying, and often they show no mutual respect for each other.
Indeed, more than one commentator has observed that we live in a country in which liberals talk mostly with other liberals and move each other into even more liberal views. And, the commentators say, conservatives do the same thing. The fact that we increasingly communicate with each other electronically and don't sit and talk face-to-face probably aggravates this phenomenon.
Now we head towards the 150th anniversary of the Lincoln-Douglas Debate on the east lawn of Old Main, during which two political leaders talked in paragraphs about important issues, and the audience actually listened. The anniversary of the fifth Lincoln-Douglas Debate coincides with the 2008 elections. It strikes me as a good time for those of us associated with an institution dedicated to liberal learning through the liberal arts to reflect on how each of us can persuade our fellow citizens to listen to each other and to discuss issues -- especially contentious issues -- with mutual respect.
Many members of the campus community have agreed with me that, at Knox, we should move against the tendency in our society of not listening to those with whom we disagree and spend some time in the upcoming academic year to explore how to promote mutually respective discourse. The following pages contain some grist for that discussion.
Roger Talyor '63
Letter from the editor
Alumni magazines are a lot like family reunions. You've got to keep everyone entertained no matter their age or background. And there are two topics you always avoid lest you stir up a fight -- politics and religion.
Well, we decided to take on one of the "taboo" topics of conversation -- politics -- in this issue of Knox Magazine. One of the main goals of the magazine is to cover issues that are timely and relevant to its readers, and it isn't often that our magazine is published less than two months before a major U.S. presidential election, especially one that's engaged more Americans than ever before. With this in mind, dedicating this issue to the 2008 election made sense. We even decided to use a political survey of the Knox community to help guide the feature stories.
A few fellow magazine editors told me that I was insane to even attempt to conduct a political survey of our alumni body; I was just asking for trouble. They were both right and wrong. I did make a few mistakes along the way, such as creating a survey question that didn't work quite right or not taking into account our international alumni who can't vote in the United States. Thank you to the many alumni who brought these issues to my attention.
Despite a few complaints, the majority of alumni and friends were excited to take part in the survey. One alumna even reconnected with Knox and wound up being featured in the story "Alumni Share Tales from the Political Trail."
Yet throughout the last six months of pulling this issue together, I was reminded just how passionate the Knox community is about politics -- from the students who raised the funds to bring John Ashcroft to campus, to the students who protested Ashcroft's visit, to the recent Knox graduates who are working on senate campaigns around the country, to the many alumni who have been elected to and work in political offices at all levels of government, to those who volunteer tirelessly to make a difference in their communities.
As with my family, I might not share the same opinions, but I respect and welcome them. I hope this issue of Knox Magazine does the same.
Megan Scott '96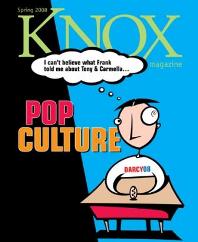 Letters to the Editor
On Magazine Length
The Knox Magazine has become too lengthy.
Today I:
Walked the dog three times.
Bought the stamp for this letter at the post office.
Played tennis.
Listened to the H. H. Heroes speaker at the Woman's Club.
Enjoyed the Art League reception for the featured artist.
Defrosted homemade soup from the freezer.
Baked muffins.
Volunteered at church.
Attended the Dog Club meeting.
Hopefully, tomorrow I'll find time to:
Groom the dog.
Retrieve money from the ATM machine.
Do the week's shopping at the supermarket.
Etc.
Our mail box is already stuffed with junk mail and catalogs, which I immediately toss out. I'm too busy to do more than glance through Knox Magazine and read the Class Notes and deaths. Sorry. -- Mary-Lee Hoover Roberts '49
---
On Jane Austen
I would like to comment on Assistant Professor of English Emily Anderson's article on "Why We Can't Live Without Mr. Darcy." As an avid Austen fan myself, I completely agree that the fascination we hold for Pride and Prejudice is without end. What makes Jane Austen so timeless is her spot-on view of people. Fashion, music, and technology change, but people are constant.
I would like to add my personal view that even though film and television certainly do not do the novel justice, I do believe that Jane Austen is winking at us in some examples. I see this especially in the 1995 A&E production of Pride & Prejudice, with Colin Firth and Jennifer Ehle. The flawless performance by Ehle, in my opinion, gives us a slight glimpse into Austen's personal narrative. When I see Ehle's Elizabeth smirk, smile, or scowl, I do see Jane Austen, not only quietly looming behind the camera, but also very much in front of it.
Appreciatively. -- Valerie Kislinger '90
---
Even More Thoughts on Bill Clinton, et.al.
Parental letters aside, the most recent contributions from Knox alumni suggest that critical thought ceases as political passions engage. Larry Horist's letter was neither "Limbaughish" nor political propaganda. The Knox Magazine's decision to print that letter and others hardly propagates political propaganda. Horist's points, however narrowly phrased, have yet to be addressed. (I seem to remember that "address" as listed in dictionaries means "to speak to," even "skill, tact." Nowhere can I recall "rail against or about" as a definition.) His logic, however implied, has not been subverted or corrected.
What might more engage our debate at this point is the question of the precise criteria by which the Board of Trustees decides to whom to award honorary degrees. The silence from the Board simply ensures continued acrimony on this and other future awards. -- James Paynter '65
Editor's Note: See the Knox College Honorary Degree and Commencement Speaker Selection Guidelines.
I read the latest edition of the magazine. It looks and reads fine.
Upon receiving the magazine, I first perused the "To the editor section." Knox students have always been diverse in their views, which of course is one of the cornerstones of America. What was most interesting was the discussion of Bill Clinton, "one of the most important and sought after personages of the modern day," according to Robert Moyer '52.
I suggest that we tell our children that things were just fine at the White House during this moral man's (Clinton's) tenure. We should tell our offspring to follow his lead. The next Commencement speaker could be Ted Kennedy, Gary Hart, Jesse Jackson, or the latest ex-mayor of New York. -- Douglas L. Ziech '66
---
Connections
There have been so many names and pieces in recent issues of Knox Magazine with which I have connected. I am the youngest son of Merritt Moore, who taught philosophy at Knox for nearly 20 years. He and my mother moved to Galesburg after he finished his Ph.D. at Chicago, and it was their/our home until the mid-fifties, when he became the chair of the newly created philosophy department at the University of Tennessee in Knoxville.
Betty Baylor, who was remembered in the last issue, was my mother's closest friend. I have clear memories, as I am sure does Owen Muelder '63, of the faculty wives meeting in our home -- they rotated homes for their regular meetings -- women chatting amiably and intelligently amid the smell of coffee and perfume, dressed in afternoon finery, enjoying some of my mother's incredible homemade cakes and cookies, I am sure. My dad had a Fulbright to study in Paris when I was 10, and, during our first week in Paris, we were warmly welcomed to the city by Knox Trustee Dean Jay -- who was remembered in the last issue as well -- in his beautiful office at Morgan & Cie on the Place Vendome. Let's just say that to a kid from Galesburg it was awesome, in the truest sense of the word.
To this day, I am grateful that Galesburg was my boyhood home and that I was a Knox faculty kid. I should have written sooner about my memories of climbing the worn stairs of Old Main and hanging out in my Dad's office, usually with my brother, Miner '61, on the top floor. The building had an amazing scent of books, tobacco, old bricks -- who knows what all -- perfume to a young boy. And I loved peeking into the formal rooms and seeing what we were told was the chair that Lincoln had sat in before the great debate.
The memories are too many to recount here, but include Alec Guiness movies (The Lavender Hill Mob) in Alumni Hall and standing in the rain as a freshman in 1958 listening to Carl Sandburg -- whose home we visited annually as children and pupils at Silas Willard School -- talk about Lincoln. Michael Morrison '63, whose letter appeared in the last issue, was my best friend in my earliest years at Silas Willard. Mike and I are in touch yearly at the holidays, and we met for the first time in 50 years in Los Angeles a few years back. We are fully aware that we are at opposite ends of the left-right political continuum; while I was in the Peace Corps in Idi Amin's village in northwest Uganda, he was flying missions from a carrier over North Vietnam.
If I were to comment on the Commencement speakers, I would say that our dad would have enjoyed both Ed Asner and, most definitely, Stephen Colbert, whom he would have probably respected as far more than a late night TV comic, as I do. And I am certain he would have been proud of the choice of President Clinton, at least the one we knew then. I was sorry I couldn't be there to represent all of our family, including my father, brother, and sister, Rosella Jean '57, who lives in Colorado. It is long past time for me to reconnect with Knox on their behalf and my own.
I am excited, as I am sure are many others, by the new tone of optimism and pride that Roger Taylor '63 has set and that I see in the magazine. It was time for the tone of mild defensiveness and apology to be put away. -- Arthur Moore '62
---
Thrilled with Albright
Over the last three years, I have had the wonderful opportunity to visit friends in Galesburg and attend Knox Commencements. Visiting the campus at that time of year and seeing those incredible speakers in the setting that has such historical and personal significance has been most enjoyable. I am excited and proud that Knox has selected and retained such impressive speakers for this event; however, I came to realize after reading an article in The Register-Mail how few of these have been women. I am distressed and wondering how/why this is the case.
While I thoroughly enjoyed hearing Stephen Colbert and President Bill Clinton (and was sorry to not have attended the year Barack Obama spoke), I am thrilled that I was able to hear Madeleine Albright this year. -- Ann Ranfranz '75