2007 Alumni Achievement Awards
Knox celebrated the 170th anniversary of its founding with the presentation of Alumni Achievement Awards at the 2007 Founders Day Convocation on Thursday, February 16, in the Muelder Room, Seymour Library.
At the celebration, three alumni were awarded 2007 Alumni Achievement Awards-Gene "Spanky" Binder '56, Margery Rosen Kraus '67, and David P. Fridovich '74. Monica Berlin '95 was the third recipient of the Young Alumni Achievement Award.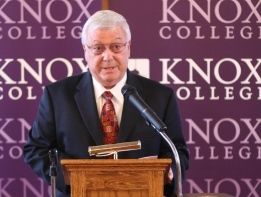 Gene "Spanky" Binder '56
2007 Alumni Achievement Award recipient for his achievements higher education. Award presented by Megan Clayton, Coordinator of Fifty Year Club Activities
Gene Binder, known to his Knox friends as "Spanky," graduated from Knox in 1956. He went on to earn a master of arts and doctor of education from Washington State University.
In 1971 Gene received an unsolicited $500,000 postsecondary educational award from the U.S. Department of Economic Opportunity to design a College Assistance Migrant Program, otherwise known as CAMP. The award was based on his prior doctoral research and successful educational work with Hispanic, African, and Native American students from migrant and seasonal farm worker families at Washington State University. At this period of time in U.S. education history, there was no record of a migrant or farm worker child ever graduating from college. Gene selected St. Edwards University, Austin, Texas, from a list of 51 college and university applicants to host the program. The first 100 CAMP freshman students enrolled at St. Edwards University in fall of 1972. By 1978, the CAMP experiment was hugely successful, and the program was expanded to eight additional university campuses, officially recognized by the U.S. Congress, and moved with line item budget authority to the U.S. Department of Education.
CAMP has grown from a one university migrant experimental program to 47 university and college campuses, accepting 2,400 freshman migrant students each year, with an annual federal budget exceeding $17,000,000. In the 34 years since its inception, CAMP has opened the doors to thousands of migrant children who have become community leaders that represent a diverse professional spectrum.
Gene has spent 30-plus years working in Texas private and public higher education institutions. In addition to his work with CAMP, Gene has served as special assistant for education programs to Texas Governor Mark White and authored numerous publications. He implemented and directed a statewide network of in-school youth programs for high risk students and high school dropouts. These programs were placed on over 20 Texas university and college campuses and in numerous Texas parks and wildlife areas, serving over 20,000 participants. As a consultant for Target Stores, Inc., he designed and implemented a private sector work study program model for financially needy college students to work one year in Target stores throughout Texas.
Gene received the U.S. Bronze Star for Meritorious Achievement against Hostile Forces in the Republic of South Vietnam. Today he works as VISTA Coordinator for the College for All Texans Foundation, a nonprofit corporation established in 2001 by three Texas Higher Education Coordinating Board members.
Margery Rosen Kraus '67

2007 Alumni Achievement Award recipient for her achievements in business and public affairs. Award presented by Robert Seibert '63, Professor of Political Science.
As a member of the class of 1967, Margery Rosen Kraus attended Knox for two years then transferred to American University where she received her Bachelor of Arts degree in political science and public law. She went on to earn a masters degree in the same from American University.
Margery founded her first communications consultancy in 1984. As one of the first female chief executives in a consulting firm, Margery is a pioneer in the industry. Through several reiterations, the one office firm is today APCO Worldwide, one of the largest privately owned communication and public affairs firms in the world. Headquartered in Washington, D.C., APCO has 25 offices worldwide, including the Americas, Middle East, Africa, Asia, and Europe. The firm specializes in business consulting for major multinationals, foundations, and governments, including seven of the top 10 companies on Fortune's Global 500. APCO employs around 450 worldwide and is widely recognized for its employee-focused culture and dedication to attracting and retaining the best talent in the industry.
Prior to starting APCO, Margery assisted in the creation and development of the Close UP Foundation, a political and educational program for high school students and teachers that is sponsored in part by the United States Congress. Each year, more than 20,000 students, teachers, and other adults take part in Close-Up's programs in Washington, D.C.
Margery has received many professional awards from the business and communication industries including the 2006 "Ernst & Young Entrepreneur of the Year for Greater Washington," the 2005 "Lifetime Achievement Award" by PR News, the 2005 "Top Women Business Builders" by Fast Company and in 1998 the "Washington Businesswoman of the Year" by ABC's Washington, D.C. affiliate. In addition, APCO has been recognized by its peers by being named the "PR Agency of the Year" in 2006 by PR Week.
Margery serves on the board of trustees for American University and has spent countless hours serving on advisory boards for various organizations, including Close Up Foundation, Institute for Public Relations, The Public Affairs Council, and Terry Sanford Institute of Public Policy at Duke University. She has authored numerous articles in the field of public affairs management, corporate reputation, and has been a guest lecturer throughout the world.
In 22 years, Margery has taken her one-person business to be the top in the world. In a business that is perceived by some in the outside world to be "spin," Margery Kraus is recognized as an ethical businessperson, a true innovator, and an excellent employer.
David P. Fridovich '74

2007 Alumni Achievement Award recipient for his service in the Armed Forces. Award presented by George B. Eaton '80.
David Fridovich graduated from Knox in 1974 with a bachelor of arts in international relations. He went on to earn a master of arts in political science from Tulane University. His military education includes the Command and General Staff College at Fort Leavenworth, Kansas and Joint Professional Military Education, all phases. He completed the British Forces' Royal College of Defense Studies of Seaford House, London, England.
Holding the rank of Major General in the United States Army since April 2006, David Fridovich has served as commander at every level in the Army - platoon, company, battalion, Special Forces Group, Special Operations Task Force, and Theater Special Operations Command. The majority of his career has been spent in the Pacific Rim.
In 1995, General Fridovich assumed command of the 2nd Battalion, 3rd Special Forces Group and the Special Operations Task Forces-Haiti, where his command was involved with Operation Uphold Democracy, in support of the United Nations Mission in Haiti. His forces were instrumental in ensuring an almost bloodless transfer of power from the Haitian Army and paramilitaries to locally elected officials. In addition, the forces aided in the effort to get schools operational; establish electrical power; repair irrigation and introduce modern agricultural methods.
From January through July 2000, General Fridovich commanded the Combined/Joint Special Operations Task Force-Operation Joint Forge, Sarajevo, Bosnia-Herzegovina. In 2002, he commanded Army Special Operations Task Force, Operation Enduring Freedom-Philippines where he was instrumental in leading the training of counter terrorist forces. On Basilan island, where U.S. Troops first started operating, improved security allowed the Philippine military to shrink it presence. General Fridovich has said that military operations are only 15 percent of what needs to be done. The rest is humanitarian, as in Army engineers helping rebuild schools and military doctors giving residents shots. In 2002 and 2003, General Fridovich commanded the first Special Forces units in Afghanistan. His units were responsible for creating relationships with local tribal leaders that led to the successful coalition that drove out the Taliban.
One of the Green Berets under his command was the first American soldier killed by enemy fire in Afghanistan. In a talk on the Knox campus, General Fridovich said that breaking the news of Nathan Chapman's death to his family was one of the worst moments in his life. He urged the audience to thank any military personnel they should meet for the sacrifices they make.
General Fridovich is an outstanding soldier and his success and unique leadership styles bring honor to the nation, the Army, and his alma mater.
2007 Young Alumni Achievement Award Winner
Monica Berlin '95

2007 Knox College Young Alumni Achievement Award recipient for her achievements as a poet and educator.
Award presented by Robin Metz, director of Knox's Creative Writing Program.
Monica Berlin graduated from Knox in 1995 with a Bachelor of Arts degree in creative writing. She went on to earn a master of arts from Western Illinois University in 1998 and a Master of Fine Arts from Vermont College in 2002.
Monica's achievements have been extraordinary in four distinct areas-professional writing, editing, college and university teaching, and community service.
As a young writer, Monica has established a national reputation. She has published her work in an array of highly regarded national journals, achieving a record of publication equal to that of many writers twice her age and experience. She has been named a finalist for the prestigious Missouri Review National Poetry Competition and the 2005 Arts & Letters Prize in poetry. Monica was selected from 845 applicants for a Finalist Award from the Illinois Arts Council, the state agency that supports arts activities in Illinois. She has been nominated for a Pushcart Prize in national competition, one of the most outstanding recognitions that any American writer can achieve. Her work has been anthologized in a nationally recognized publication, Manthology: Poems on the Male Experience, and she has presented her poems on National Public Radio. She has given numerous readings and presentations, including presentations at the annual National Council of Teachers in English Conferences.
Many recognize that the Knox literary magazine, Catch, has won multiple national competitions - an extraordinary accomplishment for an undergraduate magazine, to compete and win in the same league with magazines that have the resources and professional staffs of much larger universities. Monica served as Faculty Advisor for three of these championship issues. Currently, she is the Proprietor for The Weekly Poem, an on-line literary newsletter and Faculty Advisor for The Common Room, an electronic journal devoted to publishing critical essays by students on literature from any disciplinary area. In addition, she is a Contributing Editor for Hunger Mountain, Journal of Arts & Letters.
Monica's talent as a writer and editor carries over to her performance as an outstanding professor. Before accepting her current position as Assistant Professor of English and Creative Writing at Knox, she taught at Western Illinois University and Bradley University. Since joining Knox's renowned Program in Creative Writing, she has received the Philip Green Wright-Lombard College Prize for Distinguished Teaching; the highest teaching honor that the Knox faculty confers upon its members. She is deeply beloved by her students and has inspired many to continue their graduate school and professional careers.